Nexland ISB Pro800 Turbo Router Review
---
The Nexland ISB (Internet Sharing Box) Pro800 Turbo Router is much more then the regular router you're going to find in your local mom and pop shop, or even the larger computer chain stores like Fry's.
Nexland tend to target small to medium size business with their products rather than consumers and the ISBPro800 is a good example of how they differentiate themselves. The unit features dual load balanced RJ45 modem ports (T1, Cable, DSL, SDSL, LAN), autofailover, a 10/100 8-port switch supporting up to 253 computers, IPsec tunneling over NAT, NAPT firewall, ISDN 230K serial port analog backup, Symantec RaptorMobile VPN client, and a 5 year warranty.
With a retail price of about $620 CDN, the ISB Pro800 Turbo isn't exactly cheap, however for businesses that can have absolutely no down time on their internet connection, there isn't much you can do. You see, the main feature of the ISB Pro800 Turbo is its ability to pair two broadband connections to the router at once.
To answer the question you're probably asking yourself, the answer is no, it won't make file transfers any faster since it the download session is not spanned across the two broadband connections.
If for some reason one broadband connection should go down, the other will kick in and keep up your connection to the net alive. If both go down for some reason though, you can use a external dialup modem to keep you online. The router comes with a 12' straight through CAT5 ethernet cable, a 3' null modem cable, power brick, a quick installation guide, software CD and the users manual. The router is not rack mountable.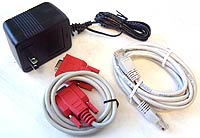 So what can you expect when you pick up a Nexland ISB Pro800 Turbo Router? The first thing that stands out is the bright purple colour which makes the entire device stand out. The quick installation guide is actually quite detailed which should be all that a novice user needs to configure and setup a home network and share the internet. It's nice to see that the ISB Pro800 Turbo is fairly well laid out in terms of ports an hard controls - everything is nicely labeled and easy to read.
VPN Tunneling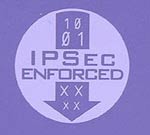 The ISB Pro800 features VPN (Virtual Private Network) with IPsec support for secure networking at remote locations. VPN allows a user to access a computer outside of the protected local network and IPSec is one of the most secure forms of protection for that digital link.
Since the ISB Pro800 Turbo is also a firewall, it protects the internal network from outside intrusion or attack. Users of the internal network can access the outside world with no problems, but should someone try to gain access to the protected network, the ISB Pro800 would turn them away. In most cases, novice hackers will not even be able to see the internal network since all the IP's have been put in stealth mode.
The unit comes loaded with a broad range of networking functions which are quite useful. The most useful of which is not the routing capabilities of the box, rather the fact that the ISB Pro800 Turbo is also a DHCP gateway.
This is extremely useful in large office networks where setting each and every computer to a unique IP addresses (and DNS) can be a major pain in the ass. With DHCP enabled the network admin only needs to set every computer to "Obtain an IP Address Automatically" and the computers will be automatically be allocated a dynamic IP at startup.
Depending on the type of internet connection you are working with, setting up your internet can be quite easy. In most cases it is as simple as connecting the RJ45 cables. or at worse, a little bit of software configuration.
Build Quality and Internal Components
Inside the NexLand Pro800 Turbo's steel case we have a Samsung S3C4510X01-QERO ARM processor, Broadcom BCM5318KQM, Realtek Ethernet controllers and several MB of EliteMT SDRAM.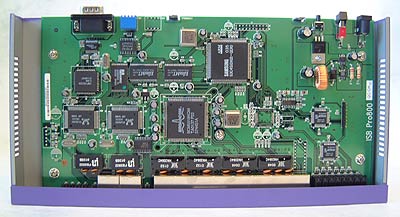 SEARCH PCSTATS

---

Use the power of Google to search all of PCSTATS and the PCSTATS Forums. Tell us what you think of this new feature - FEEDBACK?