Call it minimalist, or distilled down to its basic functionality, the 171P works well and sets up in a matter of seconds. The only jack which can be plugged into the LCD monitor is the power cord from the AC adaptor. It would have been really nice to see an integrated power supply within the body of the 171P, but I suppose that would have taken away from the simplicity of the cable point at the rear of the base.
The base is mounted to the back of the display with a rotating pivot and does not appear to be removable. Unlike other monitors where the base is removable, the 171P is a complete package, from screen to base. This simplification is a good thing, and one that allows the designers to remove the typical analog and DVI jacks completely.
Both analog and DVI video cables feed out from the base of the display adjacent to the power cord. From that point to the display there are no wires visible whatsoever. The stand is vertically adjustable about 2" or so, and the screen can rotate 90 degrees for portrait viewing. The base has an castor which allows the entire monitor to swivel left or right - and for a change the castor works very smoothly.
The little carry handle on the top of the sand is a nice feature, and is useful for not only moving the display around the office or home, but for tilting the head back.
Rotating 90 Degrees
The actual display image is pivoted with the help of some bundled software called Pivot Pro 6.01. To rotate the screen image, the user need only right click on the desktop and select "rotate 90" from the menu which pops up. Note that the OSD menus are not affected by the software, so when you rotate the screen they remain in their original upright orientation.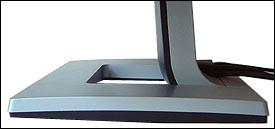 The display will tilt backwards about 10-15 degrees, and ever so slightly forward. I sometimes wish LCD's would tilt at least 5 degrees forward as this makes viewing them from lower angles a little bit easier. However, given the very wide viewing angles of 170 degrees horizontal and 170 degrees vertical there should really be no point where the screen looses is correct appearance.
The foot of the base has an open area which somewhat conceals the fact that there is a caster in there. The entire display moves smoothly to either side, and with no large and bulky video cables to contend with, is easy to look at.
In all honesty, it is surprising to see that the designers paid so much attention so something which is usually overlooked. Even thought the center of the base is cut out, the remaining frame is still large enough to stick those all important yellow Post-It notes.