Samsung F.A. Porsche Design 171P LCD Display Review
---
It is not everyday that we get to review a product which has come from a highly respected industrial designer. The 171P Syncmaster display from Samsung is a 17" LCD monitor designed by brilliant minds at F.A. Porsche. This is the same "Porsche" which is responsible for the 911 and other iconic cars.
Ferdinand Alexander Porsche founded Porsche Design in 1972, and from a small studio near an Alpine lake in the Austrian mountains he has applied detail and precision to a broad range of electronic and consumer products.
"Each design remains faithful to the principle that "function determines form" and that good design "is not style imposed from without, but the expression of the innate life of the object, the striving to portray its functional essence". And, while all F. A. Porsche designs are based on the simple tenet that "form follows function", each creation invariably transcends it."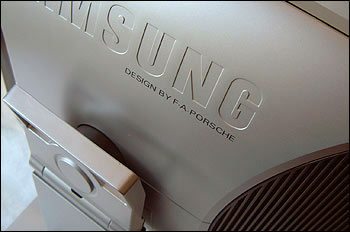 We are rather lucky to have the opportunity to be one of the first people to review this LCD monitor, and considering the response it has been generating from the folks here in the PCstats labs, Samsung have a sure-fire winner here.
There have been many LCD's up on the review block, but since the F.A. Porsche designed Syncmaster 171P has been in the lab it has been getting almost a continuous stream of attention. To be blunt, this LCD monitor looks simply stunning.
Samsung haven't skimped on the technical specs either - heck we'd roast them if they put a cheap LCD screen in this baby! With mouth watering specs like a 500:1 contrast ratio, 170 / 170 degree viewing angles, a dot pitch of 0.264mm and luminosity of 250 nits there isn't much room here to criticize anything. The pixel refresh rates are not listed in the spec sheet we received with this pre-sale review unit (price as yet undecided), but I would place them at about 25ms or lower.The stand is integral with the display, and pivots a full 90 degrees for portrait viewing.
Samsung 171P Display:



Screen Size:
17" Diagonal
Resolution:
1280x1024 pixel
Pixel Pitch:
0.264mm
Luminosity:
250cd/m2
Contrast Ratio:
500:1
Viewable Angle:
85/85/85/85
Pixel Response:
25ms
Power Draw:
54W
Colour:
Metallic Silver
Approx. Retail Price:
$1000-$1200 USD (Estimated)
Manufacturer:
Samsung.ca
Inputs: Analog / DVI

In the past we have seen some fairly innovative ways of managing the controls on the front of a computer monitor. On some models the buttons were just hidden within the frame so they wouldn't stand out. On other models, little silver touch-sensitive buttons were used. The 171P breaks every rule, and in fact every convention we have ever seen applied to a user interface on a computer monitor.
Instead of placing the six or so buttons that are required to operate the 171P on the face, F.A. Porsche industrial designers have opted for a very high tech tech strip of proximity sensors. The matt black, green LED back-lit strip of translucent plastic operates with no moving parts at all. A person need only touch the region below the green lit text to activate the "button". Very cool, and very stream line.
The power button offers a more traditional silent push button action, and is slightly indented in shape. A back lit ring of green/orange LED light emphasizes what the current power setting of the 171P display is. Other than those two components the entire front and rear of the display are void of anything a user can push, plugin, or disconnect. The only other thing which remains is the small Kensington lock on the rear to thwart people from stealing this sexy silver screen.
"Design is not form or function alone, but rather an aesthetic synthesis of the two." This is the philosophy that underlies all the work of F. A. Porsche, the grandson of the legendary car designer, Prof. Ferdinand Porsche. The starting point for F. A. Porsche´s design activities was the Porsche car plant in Stuttgart, where in 1963, he provided the body of the Porsche 911 with its inimitable lines. Then in 1972, F. A. Porsche began to operate as a freelance designer.

Initially based in Stuttgart, he moved his design studio to Zell am See in Austria in 1974. There, he and his design team developed successful concepts for renowned international customers, whereby the creative origin of the products is not always evident, as they only sometimes bear the text, "Design by F. A. Porsche".

However, the core of F. A. Porsche´s design work has always been comprised by items for the Salzburg-based sister company, Porsche Design Management GmbH & Co KG. Since 1978, these articles have been produced and marketed by selected licensing partners under the brand name "Porsche Design". These products are distinguished by four incontrovertible criteria. Namely, the refining of the objects down to their basic function. The resultant clarity and timelessness of form. The use of the most suitable, advanced materials and workmanship, which combines traditional skills with high-tech." Porsche Design ©