Abstract: With a KVM I can greatly increase my efficiency, after all what else can I do if I'm reinstalling on one machine and only have one keyboard, mouse and monitor??
89% Rating:
Home > Reviews > Monitors > Justcom JC-104P
All-in-one Cables
Because this KVM uses all-in-one KVM cables which have the PS/2 and Video signal integrated into one wire, standard cables you might buy at the store just won't work. The necessary cables to run the JC-104P are included in the price of the unit, and come in pairs of two different lengths of four and six feet.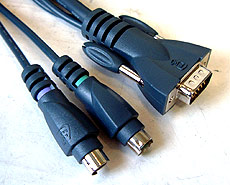 The Justcom JC104P uses all-in-one KVM cables that integrate the PS/2 and 15-pin analog video signal in one. Over the short distances we tested, the image quality remained very good, in spite of the assumption that integrating the cables might cause interference in the video signal.
If you have four computers hooked up, it's much easier to manage four cables instead of twelve!
The Justcom JC-104P supports auto scan so if you want to monitor more then one computer simultaneously just enable the auto scan feature and you'll know when something is idle or crashes.
There are a few quirks with the JC-104P however. I would have expected to see all the ports on the rear of the KVM switch, having the main keyboard/mouse PS/2 connectors on the front of the unit can make cable management messy. Buttons two and three also sometimes get stuck under the top piece of plastic making changing computers tricky.
During testing the JC-104P worked quite well, switching PC's was very easy and we did not encounter any problems other then the buttons sticking. I would have liked to see the JC-104P support a higher mouse refresh rate than 60 Hz. Even the program "PS/2 Rate" doesn't help. If you are accustomed to running a mouse at 100Hz it can be a bit frustrating at times.
Image quality through the JC-104P was excellent up to 1600x1200 @ 85 Hz (max the monitor would do) and the text and pictures were just as sharp as if the monitor was directly hooked up to the PC. Often, KVM's will introduce ghosting in the images if the cables are not shielded properly, and thankful this wasn't the case with the JC-104P.
Conclusions: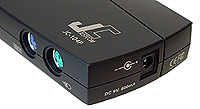 While I do not mind fixing computers for my friends/family, it's not something that I particularly enjoy doing. Most of the time the problems are software related which require me to reconfigure or reinstall the offending software which can take quite a bit of time. Having a KVM certainly saves me that precious fragging time as I can now do multiple jobs at once.
For the enthusiast out there, KVM's are also very useful as many have a main stable machine and one for toying around with the latest hardware. Sometimes restrictions do not allow for two, three or four monitors, keyboard and mice and that's where the Justcom JC-104P come in.
With a retail price of $155 CDN ($110 US) the JC-104P is priced competitively, and when you factor in the price of four KVM cables (two four foot and two six foot) all of a sudden it doesn't seem like all that much money.
Justcom should tweak their JC-104P design a bit and perhaps move the main keyboard and mouse ports to the back. It's a cosmetic issue, but I much rather placing the KVM on top of a monitor, or beside one, without creating a mess of wires. In term of cable management, the all-in-one KVM cables certainly make things easier to connect because they integrate the keyboard, video and mouse cables into one. It remains to be seen how the all-in-one cables will handle longer distances, but for the lengths we tested all seemed visually well.
Using and setting up the Justcom JC-104P was a breeze, you won't even need to refer to the users manual to do that. If you're tired of swapping out cables every time you want to use another PC, perhaps it's time for you to pick up a KVM. Trust me here on this one, spend a bit more on a quality KVM and you won't have any headaches (poor image quality and refresh rates can get to you after a while). Cheap out and buy one of those $20 generic KVMs and I guarantee you'll have a harder time than with this KVM from Justcom.
Related Articles
Here are a few other articles that you might enjoy as well...
1. Belkin OmniView 4-port KVM/audio/USB/PS2 Switch
2. TRENDnet TK-800R 8 Port KVM 19
3. LinkSys 4-port KVM switch Review
4. Belkin USB 2.0 Hub Review
5. Vantec EZ-Swap Removable HDD Racks
SEARCH PCSTATS

---

Use the power of Google to search all of PCSTATS and the PCSTATS Forums. Tell us what you think of this new feature - FEEDBACK?