Justcom Pro JC104P 4-Port KVM Switch
---
For the computer technician a KVM (Keyboard, Video, Mouse) switch is an invaluable tool as it allows one to use multiple computers with just one keyboard, mouse and monitor.
Since I'm the go-to guy whenever there's a busted computer among my circle of friends/family I often have three or four machines sitting in a queue just waiting to be looked at. With a KVM, I can do a complete system reinstall one machine, monitor stability testing software on another and perhaps configure a system which is about to be released.
With a KVM I can greatly increase my efficiency, after all what else can I do if I'm reinstalling on one machine and only have one keyboard, mouse and monitor? It would greatly decrease the turn around time and I could get the systems that are given to me to work on out faster. That would also give me more time to frag away, or to play with my new Prometeia. ;)
Justcom manufactures many different switches to suite your needs. Today we're going to be looking at their Pro JC-104P 4-Port KVM Switch. For good measure Justcom also include two four foot and two six foot all-in-one PS/2 cables. Integrating the PS/2 keyboard, video and PS/2 mouse cable into one cable certainly makes cable management a lot easier. The JC-104P did not come with the optional DC9V, 600mA power supply, although it's not required for use.
The design of the JC-104P is quite straight forward and user friendly. You certainly will not need to refer to the manual when connecting/installing the KVM or using it's basic features.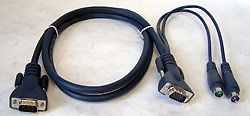 The JC-104P can support up to four computers at any given time and can handle up to 1920x1440 @ 75Hz which should be high enough for even those users with 21"/22" monitors.
You can change PC's via a few strokes of the keyboard as the JC-104P supports hot key switching, or by manipulating the front four buttons.
Justcom did a lot of the little things right; for instance if you boot a system that is not selected, the switch will emulate both keyboard and PS/2 so you will not encounter the annoying CMOS keyboard error or lose mouse control in Windows. If you're using an optical mouse you'll be happy to know that the Justcom JC-104P can supply enough power to run even the most demanding optical mice.