Winstone 2001
Source: Zdnet
Content Creation Winstone 2001 keeps multiple applications open at once and switches among those applications. Content Creation Winstone 2001's activities focus on what we call "hot spots," periods of activity that make your PC really work--the times where you're likely to see an hourglass or a progress bar.
Business Winstone is a system-level, application-based benchmark that measures a PC's overall performance when running today's Windows-based 32-bit applications on Windows 98 ME, Windows NT 4.0 (SP6 or later), Windows 2000, Windows Me, or Windows XP which runs real applications through a series of scripted activities and uses the time a PC takes to complete those activities to produce its performance scores.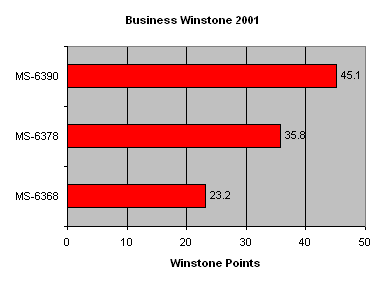 The same trend appears in Business Winstone 2001 as in Content Creation 2001. Here the MSI MS-3690 (AMD/DDR) performs on better then the Pentium 4 systems and ranks in the best performance overall.