Business Oriented Integrated Motherboard Roundup
---
Faced with the purchase of dozens of new computers, government agencies, schools and businesses need to find ways to keep costs down while still getting the equipment they require. "White box" systems based on integrated motherboards offer one of the best ways to lower the price of a new PC, as long as the application is right. Businesses looking to build workstations for high-end applications will obviously have to side with more expensive computers, but for the majority of standard office work System Administrators on a budget are well served.
An integrated motherboard is generally classed as a motherboard with on board video, audio and networking capabilities although many more features may be present. In the past this term was used mainly with Micro ATX boards, but now it's used to describe mainly the features.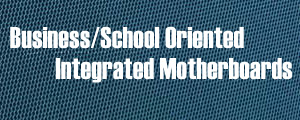 The integration of many different components (videocard, soundcard, network interface card) allow manufacturers to lower costs and sell a product for less than if all four equivalent technologies are sold separately. Since everything can be put on to one circuit board, costs associated with running different manufacturing lines, packaging and shipping are decreased greatly. From users perspective the end result is exactly the same.
What would persuade a system administrator to buy an integrated mainboard based PC from a white box distributor over that of a large OEM like Dell, Compaq or IBM is price. The advantages to buying from those companies is obviously going to be service and support.
Highly integrated motherboards are not without their compromises, blistering gaming performance and other such high end applications are never quite best served. Additionally smaller sized Micro ATX motherboards often limit the number of PCI expansion slots and less DIMM slots. While some even come without an AGP port, the ones that do will at least give you the option to upgrade in the future. In any case if we take the example of a school purchasing 50 new computers it is cost that factors in most importantly, with performance and features battling it out for second place.
Upgradeability:
So what did a recent poll say were the top four things that people upgraded in their computers? Number one was memory, which gets sucked up by bloated OS's and software ("Bloatware"). Upgrading memory can be as simple installing a new stick of RAM, or at worse removing some of your current memory and buying a much larger stick to make up for the lost RAM.
Next step on the top four things people upgrade are processors. With any PC all you need to do for the most part is swap out the processor and sit back and enjoy the increase in speed.
Hard drive upgrades rounded out the third spot, and with OS's and programs are getting larger and larger this is unlikely to change. Most integrated mainboards can accept up to four IDE devices with some of the standard sized ATX mainboards even bringing IDE RAID into the equation. True Micro ATX integrated mainboards will always be limited to at most three hard drives and one CD-ROM.
Since most integrated boards have onboard video, many users never upgrade to a high end videocard. If this isn't the case though, make sure the integrated mainboard has an AGP expansion port. New videocards are exclusively AGP and the PCI based cards are usually no better then the integrated video on the mainboard.
Comparisons and Evaluations:
We will be testing the MSI MS-6378, MS-6390, MS-6368, MS-6526, MS-6533, MS-6524, Epox 4GLA+ & 4G4A+, Iwill mP4G and Abit BG7. Evaluations will be based upon office based benchmarks, features and price/performance ratio. Motherboards will be grouped by AMD AthlonXP and Intel Pentium III, and Intel Pentium 4's in another. While there is a mix of Micro ATX and standard ATX boards this factor will be taken into consideration when we draw our conclusions. Both ATX and Micro ATX have their benefits and downside and each formfactor has it's ideal applications.
With three major CPU form factors out there to consider; Socket 370 (Celeron/Pentium 3,VIA C3), Socket A (Duron/Athlon/AthlonXP) and Socket m478 (Celeron/Pentium 4) - we've assembled ten to test and see how they stack up against each other.