The one thing that differentiates integrated mainboard PC's from their non integrated cousins is the price performance ratio. With so many bits of technology integrated onto one circuit board they are able to offer more features for the buck.
We've drawn up a chart below which shows us the price/performance ratio using SysMark2002's overall system score and the motherboard's price.
When looking at this chart you want to keep the performance line above the cost but without the cost going to high. The sweet spot for integrated mainboards seems to be between $125 and $175, so if you're paying more then that make sure you're getting exactly what you need. If you're paying less then about $100 make sure the board has enough of a life span to grow with your needs.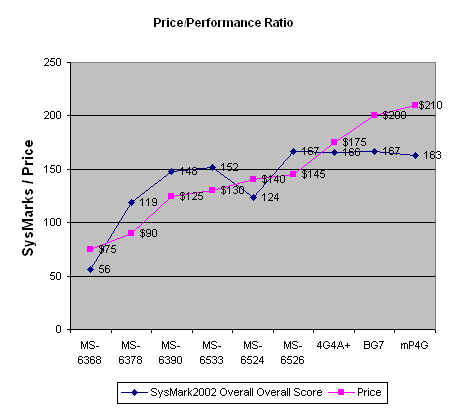 Please note, the Epox 4GLA+ is not listed because it's still beta. All prices are listed in CANADIAN funds :-)
From the Price/Performance Ratio chart above which is based on the SysMark2002 overall score, the MSI MS-6390 offers the best value for the AthlonXP/Pentium 3 platform. The MSI MS-6390 performs extremely well and still holds onto a low price point.
Looking at Micro-ATX/Pentium 4 motherboards, the MSI MS-6533 and MSI MS-6526 each offer an excellent price/performance ratio. On the other hand the MSI MS-6524 with its SiS650 chipset and SDRAM memory is just underpowered for the money. The Iwill mP4G comes loaded with a ton of features, and performs really well thanks to its i845G chipset, but ranks in with the highest price point of all the motherboards we tested.
Going with more traditional ATX motherboards, both the Epox 4G4A+ and Abit BG7 perform very close of each other, but the Epox 4G4A+ takes the upper hand because it's a bit more cost effective.