Quake III Arena is a First Person Shooter (FPS) that revolutionized gaming as we know it. Using multiple light sources and having graphics textures that can fill videocards, even after 3 years it's still able to bring a cutting edge system to its knees.
Quake III Arena Fastest demo001 (SYSTEM)

Motherboard (FSB/Memory)

FPS
Ranking
1.

KT3 Ultra2-BR 133/333 MHz

257.3
2.

KT3 Ultra2-BR 180/360 MHz

286.1
Quake III Arena Fastest nv15demo (CPU STRESS)

Motherboard (FSB/Memory)

FPS
Ranking
1.

KT3 Ultra2-BR 133/333 MHz

77
2.

KT3 Ultra2-BR 180/360 MHz

79.6
As we can see here as well, the KT3 Ultra2-BR with an AthlonXP2000+ and a Ti4600 is a gaming monster!
Conclusion: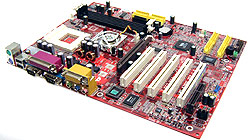 The MSI KT3 Ultra2-BR is worthy of the "KT3 Ultra" name, but I'm left wondering why MSI has come out with a second KT333-based motherboard with the KT400 is so close. Even though the board has so many options, it's not really that expensive at just $175 CDN ($120 US).
As in typical MSI fashion, the KT3 Ultra2-BR is totally packed full of features. It sports onboard 5.1 audio (not C-media sadly), Ultra/133 IDE RAID, five PCI slots, three DIMM slots and even optional Bluetooth! We like the fact that MSI is trying to be innovative with their products, always including new features and keeping their customers up to date with the latest technology.
Oh, did I mention that the PCB is bright red? =)
Since essentially all MSI did was replace the southbridge and add Bluetooth, the KT3 Ultra2-BR still has a few of the layout problems that were present on the original KT3 Ultra board. The most annoying for me is that Clear CMOS jumper... Because it's right up against the fan header, it's a bit difficult to pull out. End users probably won't experience the same frustration we do here in the lab because they only have to install the system in the case once, but if you doing a lot of 'experimental' overclocking you'll want to invest in a pair of tweezers for sure.
Overall if you're planning to build a new computer, or are considering upgrading a older Athlon based one, take a look at the KT3 Ultra2-BR when you go shopping. You definitely won't find a lack of features or good solid performance.
Related Articles:
Here are a few other articles that you might enjoy as well...