Quake III Arena is a First Person Shooter (FPS) that revolutionized gaming as we know it. Using multiple light sources and having graphics textures that can fill videocards, even after 3 years it's still able to bring a cutting edge system to its knees.
Quake III Arena Fastest demo001 (SYSTEM)

Motherboard (FSB)

FPS
Ranking
1.

P4 1.6A - 100 MHz

253.4
2.
Celeron - 100 MHz
209.2
3.

Celeron - 125 MHz

242.5
Quake III Arena Fastest nv15demo (CPU STRESS)

Motherboard (FSB)

FPS
Ranking
1.

P4 1.6A - 100 MHz

71.4
2.
Celeron - 100 MHz
59.6
3.

Celeron - 125 MHz

69.5
What we saw in 3DMark is also happening here. The P4 thanks mainly to more cache outperforms the Celeron.
Conclusion: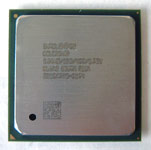 The Celeron line of processors have always been budget CPU's. With a retail price of just $146 CDN ($99 US) for an Intel processor that's pretty inexpensive. It handles office based work perfectly fine, especially some of the newer software with SSE2 code written in it. If you're strapped for cash and need a low end Socket m478 processor to hold you down, the Celeron 1.8 GHz CPU is a decent choice.
Because the L2 Cache is only half that (128KB for Celeron) of a Williamette P4 (256KB Willy P4), in 3D based applications the performance suffers. As we saw when we overclocked the processor, even at a clock speed of 2.25 GHz the Celeron was unable to beat out a P4 1.6A (512KB L2 cache in Northwood P4's).
Overall, if you're looking for a CPU to do word processing, web surfing, office work, programming or similar work - the Celeron 1.8 GHz will serve you just fine. If you're a gamer or use a lot of sound, or 3D based applications invest in a full fledge Pentium 4. You'll certainly thank yourself later when you're working.
Related Articles:
Here are a few other articles that you might enjoy as well...