Intel Celeron 1.8GHz Processor Review
---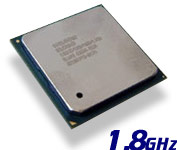 When Intel moved their flagship processor from the Pentium 3 to the Pentium 4 it was only a matter of time before the Celeron followed suite. After all, why would Intel have two different manufacturing processes for their processors; one for the Celeron on socket 370 and one for the Pentium 4 on socket m478?
By converging the two processors into the same formfactor Intel can make use of the silicon that didn't make the cut for P4 specs. By disabling some cache, that slab of silicon can rightfully be called a Celeron.
Intel's new line of Celeron CPU's are based on the older 0.18 micron Williamette core that was originally released two years ago and not the newer 0.13 micron Northwood core. The reason behind this is that Intel still has a vast 0.18 micron manufacturing process up and running, and it only makes sense for them to keep that operational while Intel is slowly moving everything down to 0.13 micron.
Now that we know the new Celeron's are based on the Pentium 4 architecture, how are they different from their more expensive bretheren? Actually the only difference between a Pentium 4 Williamette and the new Celeron Williamette is the amount of L2 cache.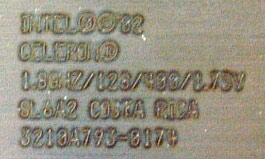 The old P4 has 256KB of L2 cache while the new Celeron has 128KB. As we've seen in the past (cacheless Celeron, CuMine Celeron VS CuMine P3) the amount of L2 cache plays a significant role in performance and this way, Intel is ensuring that the Celeron processors perform clock-for-clock lower then the Pentium 4.
The 1.8 GHz Celeron still has all the other goodies that the Pentium 4 comes with, Netburst architecture, SSE2 and Advanced Transfer Cache. If you'd like to learn a bit more on Pentium4 architecture, please read our Pentium 4 1.5 GHz review.
Overclocking:
Knowing that the limit of the Williamette Pentium 4 core was around 2 GHz, I didn't have much hope in the CPU overclocking. Using the Albatron PX845E Pro motherboard with a CPU Vcore of 1.85V I started to up the FSB. 110 MHz, no problems, 115 MHz was perfectly stable. 120 MHz and still no signs of instability.
When we past the 125 MHz FSB mark we started to have signs of instability. 3DMark would give us a Microsoft C++ error and we would get random memory dump's so we settled for a 125 MHz FSB which gives us an overall overclocked CPU speed of 2.25 GHz. Not bad for a budget processor that cost just $146CDN!