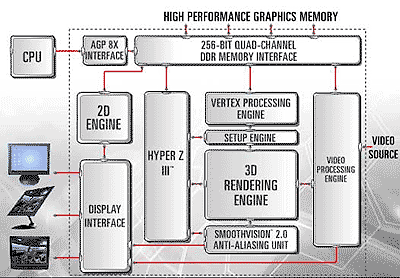 There's so much to the Radeon 9700 Pro technology that it really makes you want to sit back for a moment and marvel at just how far desktop graphics cards have come - it's truly a great time to be a gamer. As you can see, the ATI R300 core incorporates 8x AGP, a Quad channel DDR memory controller, Vertex engine and Hyper Z III just to name a few features.
The Radeon 9700 Pro is the second videocard on the market (as of this writting) to fully support 8x AGP (the first was the SiS Xabre GPU). What 8x AGP essentially does is double the available bandwidth between the rest of the computer and the videocard. This basically means that various data (shaders, 3D models, textures, etc) can travel to to the GPU and back potentially twice as fast. The peak bandwidth that 8x AGP offers is 2.1 GB/s up from 1.06 GB/s with 4x AGP.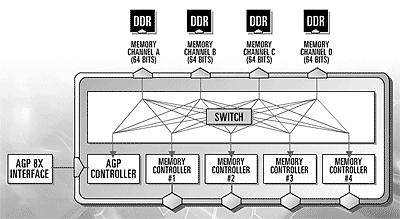 ATI have already "one upped" the competition by using a 256 bit memory controller which provides up to 20 GB/s worth of bandwidth to the R300 core (nVIDIA's GeForce line of cards all use 128 bit controllers).
The memory controller breaks up the 256 bit wide bus into four separate, yet independent, smaller 64 bit controllers. The reason behind this is based on the assumption that the computer is not always going to fill the 256 bit with data. Sometimes there will be only 64 bits, or maybe 96 bits worth of data.
Using the whole 256 bit controller to send 64 bits of data is a big waste of bandwidth ,and very inefficient. With these smaller independent 64 bit controllers, when you only need to send 64 bits worth of data, you're only going to be sending 64 bits of data. That allows the other three 64 bit controllers to be freed up.
Lastly on the memory front, as I'm sure you are already well aware, the Radeon 9700 Pro uses DDR memory. Interestingly enough, the memory controller is also compatible with DDR-II. This may come in very handy when Intel release their "Granite-Bay" chipset which is supposed to be DDR-II compatible.