Abstract: The card has support for 8X AGP and is also equipped with 128MB DDR RAM using a 256-bit memory interface. This provides over 20GB/s of bandwidth which is pretty jaw dropping in itself.


95% Rating:

Home > Reviews > Video Cards > ATI Radeon 9700 Pro
ATI Radeon 9700 Pro 8X AGP Videocard Review
---
When ATi didn't counter nVIDIA's GeForce4 Ti GPU release with a new product of their own earlier this year many people speculated that trouble was afoot in the same way that Matrox has been faltering. To counter the gossip, ATI publicly stated that they didn't see any value in revising the old R200 (Radeon 8500) core to compete against nVIDIA's new offering.
Instead, ATI engineers quietly concentrated their efforts on completing the next generation R300 core. To outsiders this seemed like a bad idea; but when the 'R300' Radeon 9700 Pro was officially announced in July 2002 the world was in store for a shock. Everyone sang the praises of the new R300 graphics core (deservedly), and John Carmack used a prototype to show off Doom III! As if that weren't enough, ATI announced that the retail cards would be available one month after the product officially launched, and they delivered as promised.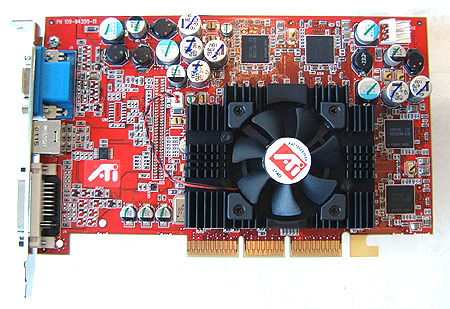 So what exactly makes the Radeon 9700 Pro so special?First off, the Radeon 9700 Pro is the first videocard on the market to support Microsoft's yet to be released DirectX 9. The card has support for 8X AGP and is also equipped with 128MB DDR RAM using a 256-bit memory interface. This provides over 20GB/s of bandwidth which is pretty jaw dropping in itself.
On the core level, the transistor count now rings in at an amazing 107 million - that is almost double the amount in a Northwood Pentium 4!. The R300 GPU is built with older (and very dependable) 0.15 micron manufacturing technology, and contains a long list of technologies which enable it to create some of the best graphics hard core gamers have come to crave. All of this at blisteringly fast frames per second, but we'll touch on that in just a second. First, a quick look at the bright red videocard in question!
After playing with extra long GeForce4 videocards, it's quite refreshing to install a Radeon 9700 Pro which doesn't take up as much space. The first thing you'll probably be wondering about is the floppy drive power connector on the right hand side of the card. This power connector is there because the Radeon 9700 Pro is power hungry and needs to draw more voltage then allowed by AGP 3.0 specifications.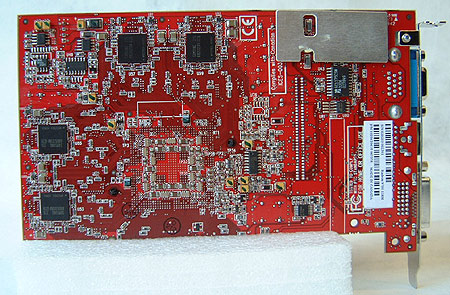 If you don't attach the external power connector, the computer will not boot up. ATI adds a splitter cable in the package so you won't lose the use of any Molex power connectors.
The only thing interesting on the back of the Radeon 9700 videocard is the little aluminum strip. According to ATI, this piece of metal is merely for EMI shielding since the Radeon 9700 Pro's power plant can generate quite a bit of EMI signal noise.