The GNB MAX is a pretty big PCB so if you try to use this motherboard in a small ATX case you'll just be asking for trouble - it is a workstation class board and deserves a case of similar proportions. The layout of the board is excellent as usual. The IDE/floppy and main ATX power connector are in the perfect location to the right of the DIMM slots so they are least likely to get in the way. The P4 power connector is near the top of the motherboard so we don't really need to worry about getting in the way of CPU fan either.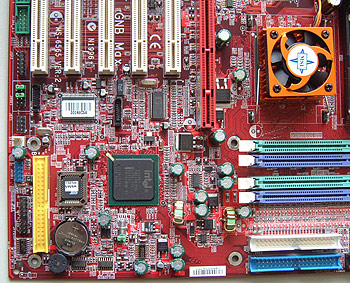 MSI is also the first manufacturer I know of that has added heatsinks to cool the MOSFET's on a regular basis. After all, the MOSFET's can get very hot during operation so having them run cooler should translate into a longer operating lifespan.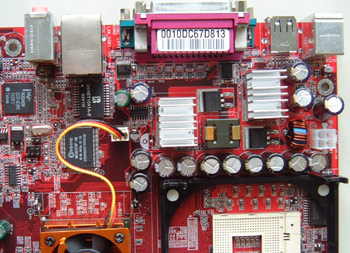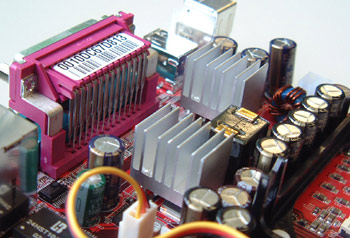 Another thing MSI does very well is, they always position headers (USB, Firewire, Bluetooth, etc) at the bottom of the motherboard. This is extremely helpful and keeps all the cables near the bottom of the case, out of the way of the other devices.
The motherboard is also very labelled, you won't have to refer to the manual when attaching any of the headers or the front panel LED's.
It's nice to see MSI ditch the lousy AC'97 audio codec and go with a real hardware 5.1 C-Media chipset. The C-Media CMI8738 produces sound that is as good as a Sound Blaster Live 5.1 and it's a pretty good for gaming as well.