MSI GNB MAX-FISR Granite Bay Motherboard Review
---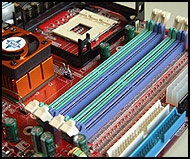 The past year has been pretty uneventful for Pentium 4 chipsets from Intel. Sure, the i845 was respun and coupled with DDR, the official Pentium 4 FSB was raised from 100 MHz to 133 MHz, and i845PE/GE chipset memory support was widened to PC2700/DDR333 standards. Those improvements were all expected, and very long overdue by the account of most P4 users. However, as evolutionary steps they didn't cause that much of a stir - but with the release of Intel's E7205 Granite Bay chipset the revolution has started!
Well, for the moment at least. If you recall, Intel made a surprise announcement on November 15th at Comdex 2002 concerning the impending release of "Canterwood", an 800MHz version of the Pentium 4.
Intel had previously roadmapped the P4 from the current 533MHz FSB level to 667MHz with a chipset called "Sprindale." Springdale-based motherboards were originally expected to support 667/533/400MHz FSB Pentium 4 processors, but with Canterwood on the horizon for Q2-Q3 2003 everything has been shifted towards 800MHz FSB.
There's no need to get too excited just yet, 800MHz FSB Pentium 4's and Canterwood chipsets are still off in the future somewhere and Granite Bay is here right now. With the end of RDRAM support from Intel, its time is definitely right too. As you're probably already somewhat aware, a Granite Bay E7205 based motherboard with dual-channel DDR, will in most cases, outperform a PC1066 RDRAM bearing equivalent. That's pretty sweet considering just how far DDR has come since AMD first brought it into the mainstream world alongside the Athlon processor.
| Intel Chipsets: | Canterwood | Springdale-G | Springdale-PE | Springdale-P |
| --- | --- | --- | --- | --- |
| FSB Support: | 800/533MHz | 800/533/400MHz | 800/533/400MHz | 533/400MHz |
| System Bus: | 6.4GB/SEC | 6.4GB/SEC | 6.4GB/SEC | 4.2GB/sec |
| Memory: | DDR400/333 | DDR400/333/266 | DDR400/333/266 | DDR333/266 |
| Memory Channel: | Dual | Dual | Dual | Dual |
| AGP Type: | 8x | 8x | 8x | 8x |
| Available: | Q2 2003 | Q2 2003 | Q2 2003 | Q2 2003 |
| Southbridge: | ICH5 | ICH5 | ICH5 | ICH5 |
| Serial ATA: | Serial ATA 150 | Serial ATA 150 | Serial ATA 150 | Serial ATA 150 |
In any event, this will be one of PCstats.com's final motherboard reviews of 2002 and it is certain to be one of the more interesting ones we've done recently. The MSI GNB MAX-FISR is a workstation class motherboard, and one which is packed with its fair share of features & goodies.
The MSI GNB MAX-FISR motherboard supports the new class of Hyperthreading enabled P4's, and is backwards compatible with all 400/533MHz FSB Pentium 4 processors based on the Socket m478 formfactor.
MSI GNB MAX-FISR

Ships with the following:

IDE ATA66/100 Cable
FDD Cable
Driver CD
Quick Installation Guide
RAID Driver Disk
User Manual
RAID Manual
SATA Cable (x2)
USB2.0 / DLED Bracket
5.1 channle Audio Bracket
I/O Back Panel Bracket

Brackets:



Not only does the GNB MAX-FISR have on board Intel RC8254OEM-based Gigabit LAN, it also comes bearing three IEEE 1394 (Firewire) headers based on the VT6306 chipset, hardware 5.1 audio, serial ATA RAID (supports two drives), and a 8x AGP Pro slot.
Even with the high level of integration, it's still nice to see that MSI was able to allow for five PCI slots should you need to add another peripheral. It looks like MSI had a pretty good time colouring the motherboard - the AGP Pro slot is a bright red (which matches the PCB) and the DIMM slots are alternating aqua and light purple in colour to help with installing the right DDR module into the right sockets.
Now, let's take a little closer look at the board itself...
The Intel RC8254OEM (82544) Gigabit LAN Controller
"

The Intel 82544EI and 82544GC Gigabit Ethernet Controllers are integrated, third-generation, Ethernet-LAN components, capable of supporting 1000 Mb/s, 100 Mb/s, and 10 Mb/s data rates. These single-chip devices manage both the MAC and PHY layer functions, and are optimized for LAN on Motherboard (LOM) designs, enterprise networking, and Internet appliances that use the Peripheral Component Interconnect (PCI) or PCI-X bus. The controllers provide a direct 32/64 bit, 33/66 MHz interface to the PCI bus that supports the PCI Local Bus Specification , as well as the emerging PCI-X extension to the PCI Local Bus at clock rates up to 133 MHz. The Intel 82544EI and 82544GC Gigabit Ethernet Controllers provide an interface to the host processors by using on-chip command and status registers and a shared host-memory area. The controller's descriptor ring management architecture is optimized to deliver both high performance and PCI/PCI-X bus efficiency. Using hardware acceleration, the controllers can offload various tasks from the host processor, such as TCP/UDP/ IP checksum calculations and TCP segmentation. The Intel 82544EI and 82544GC Gigabit Ethernet Controllers cache up to 64 packet descriptors in a single burst for efficient PCI-bandwidth usage while the large 64KB on-chip packet buffer maintains superior performance as available PCI bandwidth descriptors change. Fully integrated physical-layer circuitry provides a standard IEEE 802.3 Ethernet interface for 1000Base-T, 100Base-TX, and 10Base-T applications. And, with the addition of an appropriate serializer/deserializer (SERDES), the Intel 82544EI and 82544GC Gigabit Ethernet Controllers alternatively provide an Ethernet interface for 1000Base-SX or LX applications (802.3z)."
SEARCH PCSTATS

---

Use the power of Google to search all of PCSTATS and the PCSTATS Forums. Tell us what you think of this new feature - FEEDBACK?