Heatsink Clearances and Overclocking
The AMD AthlonXP is a toasty chip, so many of our readers like to know what is the largest heatsink that they can slap on, or in some cases bolt on to the motherboard.
Since AMD doesn't currently use any standardized heatsink retention mechanism there is a lot more freedom in terms of the overall size an Athlon heatsink can take. Throw in the mixed layouts of many different mainboards and you have a problem on your hand. Not all AMD heatsinks will fit cleanly on all AMD motherboards, especially if the heatsink is large, or requires the use of now obsolete mounting holes.
PCStats Heatsink Clearance Measurements
Top Clearance:
16 mm
Bottom (cam) Clearance:
12 mm
Left Side (arm) Clearance:
30 mm
Right Side Clearance
15 mm
Socket Mounting Holes:
4mm Ødia
Max. Heatsink Base Dimensions:
~90x85 mm

Note: Approx. measurements are made from the edge of the socket (not the clips) to the closest obstacle taller than the ZIF socket itself.
The socket is 51mm across, and 62mm from top to bottom.
Epox has done a superb job clearing the CPU socket area. This is probably the most spacious motherboard we have ever used and even has four heatsink mounting holes!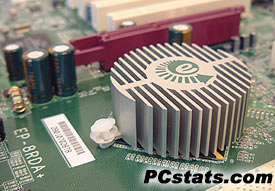 You definitely will not have problems installing larger heatsinks like the Alpha PAL8045 or Thermalright SLK-800.Because the Power Fan Header and CPU Fan header are side by side, you must make sure you plug the HSF into the right header! If you plug the CPU fan into the wrong header, there's a possibility you could fry your processor when the board goes into hibernation (sleep mode).
Overclocking on the 8RDA+ What to expect
If you're a regular PCStats reader, you know that all the Epox boards that we have tested from the 8KHA+ to the 8K5A2+ have been great overclockers. Let's find out now if the 8RDA+ will continue this tradition.
Using a locked AthlonXP 2700+, I was only able to push the motherboard to 184 MHz FSB. However when I used our trusty AMD T-Bred AthlonXP 2000+ which is unlocked by default, I was able to push the board all the way up to 214 MHz while maintaining 100% stability!
I believe the board could be pushed further if we had better cooling on the nForce2 SPP Northbridge... That sucker gets really hot, and the passive heatsink is more for show than functionality!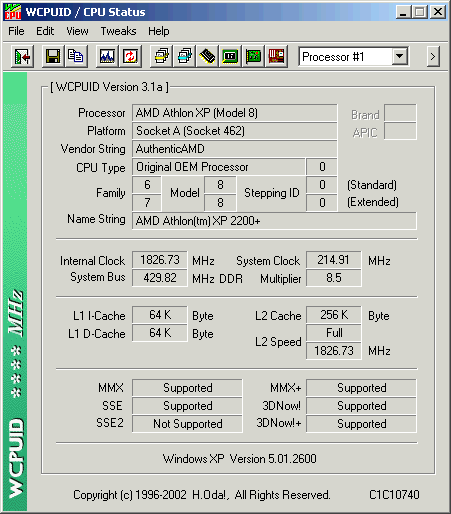 We did now include any benchmarks at 214 MHz FSB because the CPU clock speed is just too low.