Epox 8RDA+ nForce2 Motherboard Review
---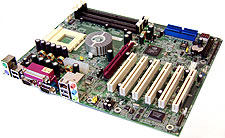 Today we're going to be checking out Epox's take on the nForce2 SPP; the 8RDA+ motherboard. Based on the same nForce2 SPP (System Platform Processor) you can already guess that that the Epox 8RDA+ is going to be fast, but will it be heads and shoulders above other nForce2 motherboards out there? Read on and we shall see...
For starters, what exactly does the Epox 8RDA+ have to offer? Is it chocked full of USB and firewire ports, or is it just a plain and simple mainboard solution? Well thanks to the nForce2-128 SPP Northbridge chipset, the Epox 8RDA+ supports any 200/266/333 MHz based Athlon processor, even the upcoming Barton based Athlon's so upgrade paths are clean and simple.
There are three DIMM slots for a maximum of 3 GB of PC1600/2100/2700/3200* (* there is no JEDEC PC3200 standard) memory, but since the NF2 is able to take advantage of dual channel DDR, you'll really just want to populate the first two slots with identical memory types/sizes.
The Epox 8RDA+ also includes other goodies like on board IEEE 1394, 10/100 LAN and 5.1 audio. In terms of expansion room, there are six PCI slots and a 4x/8x AGP port with a maximum AGP interface bandwidth of 2.1GB/second.
Epox 8RDA+ Motherboard




Ships with the following:

IDE ATA66/100 Cable
FDD Cable
Driver CD
Utilities CD
User Manual
Quick Install Guide
Rear I/O Back Panel

Brackets:

Game Port Bracket

IEEE 1394 Bracket

USB 2.0 Bracket

Epox haven't adopted any flashy colours for their PCB, preferring to keep it simple and stick with green. With most of the features we now come to expect based on chipset level support, it has become very inexpensive for manufacturers to include them - no extra hardware is required for USB, LAN or Firewire support as is the case with the Epox 8RDA+.
I personal like that more and more manufacturers are including on board 10/100LAN as standard equipment, with broadband becoming more popular, saving $20 on a NIC card is like a nice little "rebate." If you use high bandwidth external devices, the 8RDA+ supports two ports for Firewire and a total of six for USB 2.0.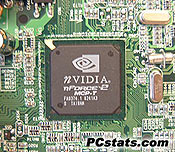 The layout of the components and sockets on the Epox 8RDA+ is pretty good; there's nothing that really gets in the way of long expansion cards, or other parts in a small mid-tower case. Sure, the power connector isn't in the greatest location in terms of CPU airflow, but being close to the MOSFETs means a more stable voltage supply to the processor.
With a total of six PCI slots, you shouldn't have any problems in terms of future expansion on the 8RDA+. If you can't fit everything you want into this motherboard, you won't be able to with any other board on the market.The Port80 diagnostics card on the lower right hand corner is an invaluable tool for anyone who likes to tinker with their system. If you think you're have a hardware problem, just look at the Port80 card and it'll tell you whether something is broken with a quick reference to the manual.
While the nForce2 chip is cooled with a rather large passive heatsink, it would have been more useful if thermal paste had been used instead of the rather thick pink thermal pad. Incidently, from what we have seen thus far in nForce2 boards, it doesn't seem like IDE RAID is being supported on very many models at all which is a shame.