Another Awesome Board from Epox!
Epox always seems to be able to impress us. Maybe it's their dedication to enthusiasts/overclocker segment which gives them a special place in my heart, or maybe it's just that they produce some darn fast motherboards. The Epox 8RDA+ continues this tradition of excellent quality, speed and overclockability with the help of a special little chipset from Nvidia.
With a retail price of $195 CDN ($115 US) the Epox 8RDA+ is not only fast, it also offers an excellent value for consumers.
True, it does not IDE RAID or Serial ATA, but with six PCI slots you shouldn't have any problems expanding via add-in cards which support those features. The Port 80 diagnostic card is an excellent tool which should become a standard feature on all motherboards. Countless times it has saved me from trouble shooting due to hardware failure.
The Performance of the Epox 8RDA+ was excellent and it has some of the best overclocking options of any current nForce2 motherboard we've tested. With an unlocked processor we were able to push this bad boy to 214 MHz FSB while maintaining 100% stability; we're pretty sure we could have gone higher if we had better cooling on the Northbridge however!
As I have said many times and as I'm sure you know, the nForce2 is clearly the fastest AMD chipset on the market and consumers have taken notice of this. With features like AGP/PCI locking, DDR 400 and Dual Channel DDR (most beneficial to IGP based boards) you should definitely get a nForce2 based motherboard if you're looking to get a new AMD-based system. If you're looking for an awesome overclocking motherboard make sure you check out Epox's 8RDA+! It's one of the best!
Find out about this and many other reviews by joining the Weekly PCstats.com Newsletter today!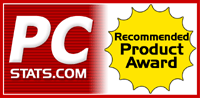 Related Articles:

Here are a few other articles that you might enjoy as well...

1. FIC AU11 nForce2 Motherboard Review


2. MSI K7N2-L nForce2 Motherboard Review
3.