Quake III Arena is a First Person Shooter (FPS) that revolutionized gaming as we know it. Using multiple light sources and having graphics textures that can fill videocards, even after 3 years it's still able to bring a cutting edge system to its knees.
Quake III Arena Fastest demo001 (SYSTEM)
Processor
FPS
Ranking
1.
K7N2-L - 166/400
333.7
2.
K7N2G-ILSR - 166/333
313.1
3.
K7N2G-ILSR - 175/350
333.7
Quake III Arena Fastest nv15demo (CPU STRESS)
Processor
FPS
Ranking
1.
K7N2-L - 166/400
94
2.
K7N2G-ILSR - 166/333
101.5
3.
K7N2G-ILSR - 175/350
106
Here we see at the fastest settings, the K7N2G-ILSR is slower then the K7N2-L with Radeon 9700 Pro with the demo001 benchmark, but faster in the nv15demo.
Integrated video can be good after all!
The MSI K7N2G-ILSR just goes to show you that a motherboard with integrated graphics does not have to be bad performer. As we have seen by the slew of benchmarks, the K7N2G-ILSR keeps up with it's twin the K7N2-L (nForce2 SPP) in all the office based benchmarks, and even the gaming results are pretty decent!
With a street price of $152USD the K7N2G-ILSR packs in good value amongst its long list of features. To say this board is well equipped is an understatement; Serial ATA/IDE RAID, 10/100 LAN, 6-channel audio, IEEE 1394, on board GeForce4 MX video, TV-out and more if you want to start hitting up all the optional features MSI pack in.
The K7N2G-ILSR has basically everything you need in a computer already integrated into the motherboard - making it a real reality to just drop in a stick or two of DDR and a processor and go from there. If you need to expand and add some PCI cards there are five slots to pick from and as graphics demands (and budgets) expand there is always that 8x AGP slot.
Performance of the board was good, but that's something we expect from a nForce2 based motherboard (kind of reminds you of the old "a Geforce is a Geforce is a Geforce mantra"). In the all important office based benchmarks we can see the integrated video does not slow the system down.
The Northbridge active heatsink is a custom cooler that is an improvement over other designs, but overclocking was still somewhat limited in this case. Bottom line, if you're looking for a good overall nForce2 motherboard with a lot of features, the MSI K7N2G-ILSR will surely quench your thirst. Just make sure you don't overlook it because of the old "integrated video" stigma!
Find out about this and many other reviews by joining the Weekly PCstats.com Newsletter today!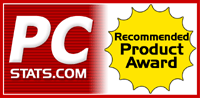 Related Articles:

Here are a few other articles that you might enjoy as well...

1. MSI KT4 Ultra-FISR KT400 Motherboard


2. Epox 8K5A2+ Bluetooth Motherboard