Quake III Arena is a First Person Shooter (FPS) that revolutionized gaming as we know it. Using multiple light sources and having graphics textures that can fill videocards, even after 3 years it's still able to bring a cutting edge system to its knees.
Quake III Arena Fastest demo001 (SYSTEM)
Processor
FPS
Ranking
1.
AthlonXP 3000+ 166/333
375.6
2.
AthlonXP 3000+ 200/400
412.4
Quake III Arena Fastest nv15demo (CPU TESTER)
Processor
FPS
Ranking
1.
AthlonXP 3000+ 166/333
107.2
2.
AthlonXP 3000+ 200/400
116.9
Quake III has always loved bandwidth and thanks to the higher FSB, we get a nice 10% performance boost!
Unreal Tournament 2003 Demo

Source: Epic
Unreal Tournament 2003 is the sequel to 1999's multiple 'Game of the Year' award winner. It uses the very latest Unreal Engine technology - where graphics, sound and game play are taken beyond the bleeding edge. Unreal Tournament 2003 employs the use of Vertex as well as Pixel Shaders and it's recommended that you use a DirectX 8 videocard to get the most out of the game.
UT2003 Demo 640x480 Flyby
Video Card
FPS
Ranking
1.

AthlonXP 3000+ 166/333

224.38
2.
AthlonXP 3000+ 200/400
247.18
UT2003 Demo 640x460 Botmatch
Video Card
FPS
Ranking
1.

AthlonXP 3000+ 166/333

73.51
2.
AthlonXP 3000+ 200/400
80.31
Like Quake III Arena, UT2003 also gets a decent performance increase thanks to the higher FSB.
Well, what does all this mean?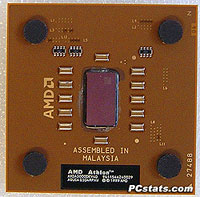 So now that we know what some of the performance differences are, what can we make of it? If you're one to run mainly office based benchmarks you can get by with "slower" 333 MHz or 266 MHz based Athlon system for some time to come, but if you're into graphics or are a gamer you may want to invest in a 400 MHz based rig if and when they're available.

Raising the bus speed 400MHz will increase the Athlon's already high IPC, and this would give AMD a good counter to Intel's upcoming 800 MHz based Pentium 4's.

Uprgrading a current Athlon systems for 400 MHz FSB compatibility can be quite a chore since only nVIDIA's nForce2 officially supports 400 MHz FSB. Older chipsets like VIA's KT400, KT333 will probably run 400 MHz FSB but having the AGP and PCI's operate that high for an extended period of time is usually not a good idea. Getting high quality PC3200 memory may also pose some problems, but thankfully memory prices are quite low at the moment.

In the end though doesn't it always come down to performance? As we can see, raising the Athlon's bus speed from 333MHz to 400MHz can bring some fairly hefty performance increases, and hopefully this can hold AMD over till the Athlon64 is ready!

Related Articles:

Here are a few other articles that you might enjoy as well...

2.