AMDs Move To a 400MHz Bus Speed - What Can We Expect?
---
While AMD just recently increased the AthlonXP bus speed from 266MHz to 333MHz in October 2002, there has been a lot of talk lately about the AthlonXP moving to a 400MHz bus speed as early as the third quarter of 2003. As most overclockers already know, FSB (Front Side Bus) speed is very important to overall system performance. As we have seen in the past with the Intel Celeron line of processors, a low FSB can severely limit the overall system performance of a processor regardless of what the CPU clock speed actually is.
FSB
Bus Speed
100MHz
200MHz
133MHz
266MHz
166MHZ
333MHz
200MHz
400MHz
If you'll recall from past PCstats.com articles, the Front Side Bus (FSB) is the bus within a processor that connects the CPU and memory. The faster this channel runs, the faster the processor can communicate with the motherboard and other components in the system. For example, the current crop of AthlonXP processors run with a 133MHz FSB, and in the case of AthlonXP 2700+'s and higher (including Barton), a 166MHz FSB.
Since the computers that support these processors are now exclusively employing DDR SDRAM (Double Data Rate Synchronous DRAM), to get the bus speed, we double the FSB. Hence for a 166MHz FSB AthlonXP, the bus speed is 333MHz.
With this upcoming FSB change on the horizon for AMD, many consumers will soon confront the eternal "should I buy now or wait" question. To illuminate some of the potential differences, we're going to take a look forward and compare an AthlonXP 3000+ running at 333MHz bus speed to the same chip running at a 400MHz bus speed (while keeping CPU clock speed approximately the same).
First though, I'm going to be a bit of a spoiler and ruin the suspense; overall system performance at 400MHz bus speeds is better than that at 333MHz bus speeds - remember, higher bus speeds can significantly help system performance.
Now that we have that out of the way, let's discuss some of the pro's and con's of moving to a higher FSB.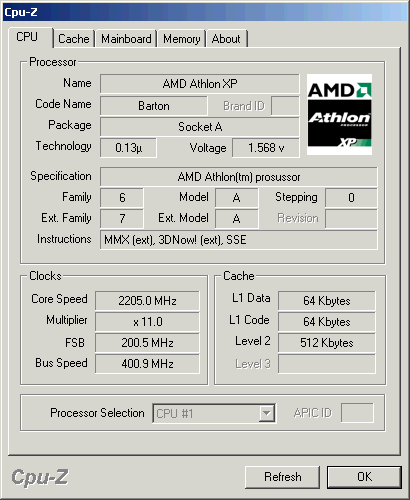 Please disregard the reported voltage, CPU-Z does not read that properly
Aside from the higher performance a 400MHz bus speed would bring to the table for the AMD AthlonXP, it should also allow AMD to keep up with Intel in terms of the speed crown; that is until AMD can officially release the Athlon64 processor in September 2003. The bump up also keeps AMD in the game as Intel is set to release their 800MHz FSB version of the Pentium 4 processor, and marketing battles are set to flare up.
While a move to 400MHz bus speed sounds good and all, the only chipset on the market that currently supports this nVIDIA's nForce2. Users who want to jump on the 400MHz bus-speed-bandwagon will need to upgrade their older motherboards to nForce2 based platforms to run their AGP/PCI's in sync. While it's true many VIA KT400 and KT333 based motherboards can run at 400MHz without problems, most videocards and PCI devices do not handle high AGP/PCI speeds well for a prolonged period of time. Nforce2 mainboards such as the Asus A7N8X nForce2-SPP, MSI K7N2G-ILSR ,Epox 8RDA+, FIC AU11, and MSI K7N2-L all fall under that envelope.
Even though DDR memory prices are quite low at the moment, quality PC3200 memory still holds a price premium over quality PC2700 (I'm talking the stuff with 2-2-2-5-1 timings) and standard PC3200 memory. Another thing to keep in mind is most mainstream/generic PC3200 DIMM's on the market are only rated to run at 200 MHz FSB (400MHz bus) while using extremely conservative timings of 3-4-4-8-2!
My last point is for the overclockers in the crowd; if AMD moves the Athlon to a 400MHz bus, there is a good chance overclocking will not be quite as much fun because you're already running an extremely high FSB.
Let's just assume a few things here for the arguments sake. If we happened to have a motherboard that did not have multiplier adjustments, but allowed us to change the FSB, to get a 25% overclock we'd have to run the bus at 500 MHz! Assuming an extremely overclockable processor was on hand, do you know of many motherboards or memory that can handle 250MHz FSB speeds such as that?
So now what? Well, from the points I've mentioned above there is certainly the argument that overclockers are going to suffer from AMD moving to a 400MHz bus speed. The other side of the argument is the performance increase this move will net the average consumer, so let's take a look at the benchmarks before we cast our final votes.