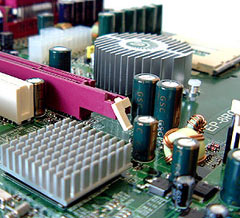 From a performance enthusiast's stand point, the Epox 8RGA+ is possibly the best overclocking nForce2 SPP/IGP based motherboard we have tested thus far. The board is just so overclocker friendly; with CPU voltages up to 2.2V and VDD voltages up to 2V it is no wonder overclockers always look forward to Epox mobo's.
As a consumer I have been very satisfied with the Epox motherboards I have purchased in the last year (seven of them!) and not one has let me down yet. Even my old 8KHA+ from Oct 2001 is still alive and kicking!
The EP-8RGA+ is not exactly the most luxurious nForce2 motherboard on the market, but it still has a few goodies like IEEE 1394, USB2.0, 10/100 LAN and 5.1 audio. We would have liked to see both Serial ATA and IDE RAID onboard as well, but I guess you can't win them all.
With its dual analog connectors round back this is the only nForce2-IGP motherboard that offers users dual monitor capabilities with its integrated GeForce4 MX video. I have to admit it is kind of eerie being able to set up a computer for dual displays without ever having to install a videocard.... or for that matter much else besides memory and a processor. Onboard features are a really cost effective way to save money if you are setting up lots of computers for business too.
With a board such as this, or just about any other nForce2-based solution for that matter, there really isn't much else required other than the motherboard. With a retail price of $210 CDN ($135 US), that makes the Epox EP-8RGA+ a pretty good bargain. It is one of the more expensive nForce2 solutions out there, but as the benchmarks illustrate, performance and features such as those here are sure is worth the extra money!
My only gripe surrounds the passive north bridge heatsink - considering all that the IGP is able to do, an active heatsink really seems like the better choice. With the stock cooler we hit a maximum of 200 MHz FSB. When it was replaced with an active heatsink we really unlocked the overclocking potential of the motherboard hit 229 MHz FSB! H'mm, I think this board just earned itself the right to became the new PCstats.com AMD AthlonXP test bed.
Find out about this and many other reviews by joining the Weekly PCstats.com Newsletter today!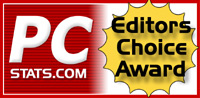 Related Articles:
Here are a few other articles that you might enjoy as well...