Epox EP-8RGA+ nForce2-IGP Motherboard Review
---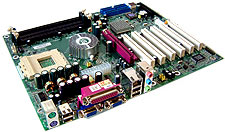 When it comes to AMD motherboards, I usually hold Epox in a higher regard then most other manufacturers. I find from a consumer point of view, Epox usually deliver a good mixture of value and performance, and I also like how openly the company embraces the enthusiast community. In the last year I've probably purchased at least seven Epox AMD motherboards for various machines, for both friends and family, and not one has ever let me down yet.
We recently tested Epox's 8RDA+ (nForce2 SPP) in January and were extremely impressed by what we saw - the board even earned a PCstats.com "Recommended Product Award."
The question today is if nforce2-IGP packing EP-8RGA+ motherboard will behave exactly like the EP-8RDA+, or will it be able to differentiate itself from its SPP brother?
Like all nForce2 motherboards, the Epox 8RGA+ supports 200/266/333MHz FSB AthlonXP processors, and even the anticipated 400MHz FSB variety should AMD decide to release them (we vote Yes! on that question). The three DIMM slots are standard feature on all nForce2 boards and can hold a maximum of 3 GB of PC1600/2100/2700/3200 DDR memory.
The onboard components include ATA/133, two Firewire ports (IEEE 1394), 10/100 LAN, six ports USB2.0, game port header and 5.1 audio among others.
Epox 8RGA+ Motherboard




Ships with the following:

IDE ATA66/100 Cable
FDD Cable
Driver CD
User Manual
Quick Install Guide
Rear I/O Back Panel

Brackets:
Game Port Bracket
IEEE 1394 Bracket
I sometimes wonder if Epox are trying for the "retro look" with their motherboards. That might explain why they're always green... but seriously, the whole fad surrounding PCB colour has lost its edge, and manufacturers realize that aside from the moderate amount of branding an identifiable PCB colour brings to the table, most users just want something fast. Heck, a bland looking board that's fast is far better than a slow pretty one right?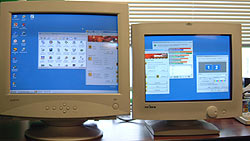 With lack of any Serial ATA support (a common point among nForce2 boards), or IDE RAID for that matter, the 8RGA+ is not one of most feature rich motherboards out there despite all the onboard items we have already mentioned. On its behalf however, the 8RGA+ does have six 32 bit PCI slots so you shouldn't have a hard time expanding in the future.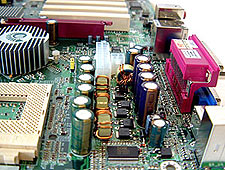 Since all GeForce4 cards support Nvidia's Twinview (including the onboard GeForce4MX) Epox have bucked the trend and equipped the EP-8RGA+ with twin analog display output connectors - that's right, two of em! - so users can take full advantage of dual displays. An 8X AGP slot is also available for full-fledged videocars.
So far, this is the only nForce2 mainboard we have tested to feature twin VGA connectors where you'd typically find the serial ports. Since serial ports are not used as frequently with brandname consumer gear which has long since adopted USB, the serial ports have been relegated to headers along the bottom edge by the last PCI slot.
The general layout of the 8RGA+ is very similar to previous Epox motherboards we have tested, with the main ATX power connector to the left of the nForce2-IGP Northbridge.
This orientation is supposed to help provide the motherboard with cleaner power signals and reduce other interferences. As you've probably noticed, Epox have employed the +12V/P4 auxiliary power connector in addition to the standard 20-pin ATX power connector. The extra power tap should help improve stability at high speeds for those who overclock.
nForce2 owners out there well know how hot the MCP/MCP-T Southbridge can get while in operation, so to keep it cool the EP8RGA+ comes with a passive heatsink held in place with with frag tape. This is good for peace of mind, and a little cross ventilation from a case fan helps to keep things under thermal control. I'd honestly like to see more manufacturers follow suit, adding passive heatsinks to the MCP/MCP-T as well.