While we had some high hopes for overclocking the Albatron PX845PEV-800, I suspected we might be a little limited by the Intel Pentium4 2.8 GHz processor we use for testing. In any case, with two sticks of PC3500 DDR from Corsair Memory installed (the board only supports two DIMMs if you use double sided memory) We began to raise the FSB slowly, just a few MHz at a time.
At 145 MHz FSB we hit a snag and had to raise the CPU Voltage to 1.65V to help stabilize things. As suspected we maxed out at 150 MHz FSB, anything higher and we wouldn't be able to load Windows.
For the sake of testing we also loaded up the P4 1.6A, that chip was able to hit 175 MHz FSB with a CPU voltage of 1.75V before becoming unstable. I'm positive that if I had a P4 capable of 200 MHz FSB I could run it on the PX845PEV-800 without any problems.
BIOS Shots and details
Albatron continue to use the Phoenix-brand BIOS with their motherboards. Considering we are more familiar with Award or AMI, it can take a little getting used to [ED: gawd that is a geeky sentence isn't it :)]. Albatron include all the tweaks that we would expect from a performance motherboard, so there should be plenty to work with if you like to optimize your system to a "T".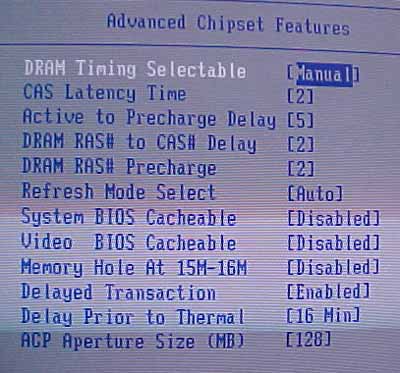 There are no surprises under the Advanced Chipset Features.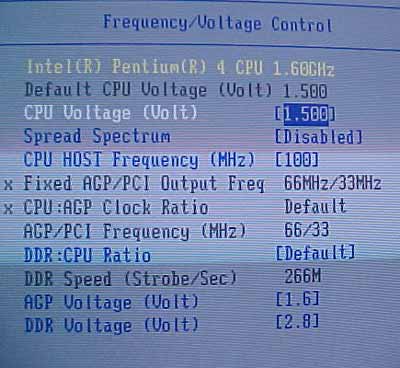 Sorry when I took th is picture I had the 1.6A installed... Albatron allows you to increase the CPU voltage to a maximum of 1.85V, you can chose any bus speed between 100-248 MHz in 1 MHz increments. We can raise the AGP voltage to 1.6V and the DDR to 2.8V. In all honesty, we would have like some higher voltages especially for the memory, after all this motherboard does have all the markings of an overclockers motherboard.