Albatron PX845PEV-800 i845PE Motherboard Review
---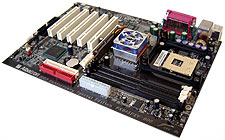 Albatron recently celebrated their very first anniversary, and looking back it has been quite a year for this upstart motherboard and videocard maker. Since January 2002 this Taiwanese company have really taken the hardware community by storm. If someone asks about a high quality, good overclocking motherboard or videocard, Albatron's name invariably pops up. For a new company in a highly competitive market such as mainboards this says a lot. With the guidance of Jack Ko, Albatron's CEO (and former head of Gigabyte) the company has achieved quick rapport with major players like Intel, nVidia and AMD.
To top things off, Albatron have also made attempts to cozy up to consumers by pricing their products very aggressively; they're not always the least expensive on the market, but they usually do offer some of the best value around.
To commemorate this anniversary, Albatron have created the "Anniversary Special Edition" PX845PEV-800 i845PE Motherboard. This is more than just another i845PE based motherboard though; Albatron have made the bold claim that this model will run at up to 200 MHz FSB and support PC3200 DDR memory! And to be totally frank, the Albatron PX845PEV 800 does have the look and feel of a pure "overclockers" motherboard. From the beginning Albatron have embraced the overclocking community, and it's nice to see them continue the tradition on their first anniversary.
Based on the i845PE chipset, the PX845PEV-800 motherboard supports 400/533/800 MHz FSB Pentium 4 processors (including Hyper-Threading) and features the three DIMM slots which can carry up to 2GB of PC1600/2100/2700/3200 DDR memory. The caveats to those two preceeding statements are of course that the i845PE chipset does not offically support 800 MHz FSB processors or PC3200 memory operation.
Albatron have also taken the liberty of including an on board 3Com 910-A01 10/100 NIC so networking should be a breeze, and have even added an extra PCI soundcard powered by C-Media's CMI8738 4.1 channel chip. If that's not enough for you, there are five PCI slots, three fan headers, six USB2.0 jacks as well as a 4x AGP port.
Albatron PX845PEV-800 Motherboard



Ships with the following:

2x IDE ATA66/100 Cable
FDD Cable
Driver CD
User Manual
Quick Installation Guide
Driver CD
4.1 PCI soundcard

Brackets:
4 Port USB 2.0 Bracket
Albatron use a very cool looking black PCB with their PX845PEV-800, and as you can see the motherboard uses the exact same layout of the original PX845PEV motherboard that we reviewed back in Nov 2002. They didn't really address the issues we brought up back then but we'll go through them again for you.
The main ATX power connector is located in a good position to the right of the DIMM slots but the P4 auxiliary connector is not in the best location.

Because the i845PE generates a lot of heat at high bus speeds, I was extremely happy to see Albatron included an actively cooled copper heatsink.
It doesn't end there either, the Northbridge fan also includes some multicoloured LED's so when it's in operation it will blink in a series of patterns. People with windows in the side of their cases will certainly appreciate that!
While many motherboards these days include the CPU-power-sucking Realtek 8100B 10/100 LAN chip, Albatron have opted for the PCI based 3Com NIC. I guess in the "grand scheme" of things this doesn't make a big difference, but anything that frees up CPU resources, and money in your wallet is a good.
Another thing that pleased me was that Albatron included an actual C-Media 8738 4.1 PCI soundcard! With sound quality similar to the SB Live! and with support for A3D and EAX, even the most hardcore gamer would be satisfied with its performance. Incidently, the sound card also comes with a game controller port.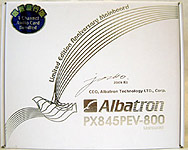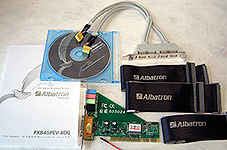 The motherboard is very well labelled and all the headers for USB2.0, IrDA, etc. are located at the bottom of the motherboard. This way it is less likely that the cables will not get in the way of any expansion cards.
I complained about it last time and I'll complain about it again, the floppy drive connector is in a bad location. At the bottom of the motherboard users with full tower cases (like the Inwin Q500) will have a hard time connecting their floppy drives. Albatron should have placed their IDE port connectors just a bit lower on the motherboard then it's current position, but now I'm just getting anal. Let's move on and see how the board overclocks.