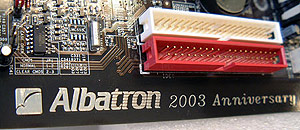 Albatron have certainly impressed us in the last year. Each and everyone of the Pentium4 based motherboards we tested here at PCstats.com were fast for their class, and very stable. Plus, who could forget the Ti4280 Turbo line of videocards which still offer one of the best values for a Ti4200 GPU card. Their latest PX845PEV-800 Limited Edition Anniversary motherboard keeps up this tradition of performance.
Some very bold claims have been made with the PX845PEV-800; the manufacturer says the board will have no problems running an 800 MHz FSB Pentium 4 and that it supports PC3200 DDR memory. While we could not run any of our locked Pentium 4's that fast, we were able to hit 175 MHz FSB with a lowly Pentium4 1.6A while maintaining 100% stability. Performance of the motherboard was what we have come to expect from an i845PE based motherboard. Pricing is not yet available on this model, but I would expect it to be competitive for an i845PE platform.
The PX845PEV-800 comes with some good features such as 10/100 LAN, and USDB2.0 on board, but lacks anything like IDE RAID or Serial ATA making it somewhat limited in the number of IDE devices it can support. Albatron do include a PCI based 4.1 C-Media 8738 sound card and with its five PCI slots you shouldn't have any problems expanding the board should you choose to. A copper northbridge heatsink with fan and multicoloured blinking LED's is just icing on the cake.
We congratulate Albatron on their very first anniversary and we hope that they will continue to produce products as well as they have in the last 12 months in the coming future!
Find out about this and many other reviews by joining the Weekly PCstats.com Newsletter today!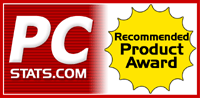 Related Articles:

Here are a few other articles that you might enjoy as well...

2.