Abstract: "Magic Bright" lets you increase the brightness of the screen all the way up to 400 nits - substantial considering most LCD monitors are capped off at 280 nit brightness ratings.
80% Rating:
Home > Reviews > Monitors > Samsung 172w
More points of interest with the 172W
Among the assorted bags of cables, CD's and other items that came with the Samsung 172W we found a wall mounting plate and the necessary screws to actually attach it (imaging that!). The 172W can be installed on this metal plate after it has been attached to wall for zero footprint applications.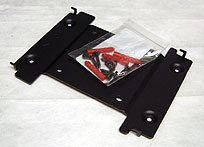 To do this, the entire base folds up behind the LCD and sort of locks into place. The overall height of this wall mounting configuration is not more than about 2". The power and video signal cables are hidden behind the screen, though there is no cable management system as such. The collapsible stand is not removable incidently.
The front bezel good of the 172W is very clean as you can see from the image below, and there is very little if anything to become a distraction. After having tested as many monitors as we have here at PCstats.com I say one thing for certain - the placement of the manufactures name and model number on the front bezel can be very distracting if done a certain way. Samsung have so far kept in my good books in this regard; if you look at the placement of those two sets of text they are off to the side in dark grey print.
Conversely, I have seen some monitors where this information was positioned dead center with shiny chrome stick on logos, or colourful icons. While this does look nice from a branding position, I find it can be distracting from the display itself, and ultimately degrades from the overall usefulness of the monitor.
The rear of the Samsung Syncmaster 172W has a very clean appearance without any ventilation slits even - dust buildup in this display should never be a problem. The stand is part of the entire assembly and is not removable.
Given that there are two joints, the display is very flexible as you can see by the following sets of images. The up and down viewing angles are capped off at 50 and 60 degrees respectively which is a little shy of what would have ideally liked to have seen. There are no mechanisms for turning the display left or right, but since it weighs only 10lbs, none are really required.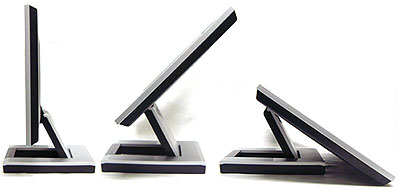 Vertical height adjustment is good for about 2"-3" of travel, which can be useful if different people are sharing the same desk.
The headphone connection and volume and input jacks are placed on the left hand side of the unit. I was a little surprise that the designers didn't place the sound input connection alongside the others at the rear, but no matter. Also note just how slim that display screen is; just one inch thick!
SEARCH PCSTATS

---

Use the power of Google to search all of PCSTATS and the PCSTATS Forums. Tell us what you think of this new feature - FEEDBACK?