Samsung Syncmaster 172W Widescreen LCD Monitor Review
---
Retailing for a little over $600USD, the Samsung Syncmaster 172W is a pretty slim 17" widescreen LCD that packs in a pair of integrated speakers and even headphone jack. The screen conforms to a 16:9 aspect ratio making it ideally suited for watching DVD's full screen, although there is no way of inputting a signal directly from a DVD player. To improve visual display quality, a special feature called "Magic Bright" lets you increase the brightness of the screen all the way up to 400 nits - substantial considering most LCD monitors are capped off at 280 nit brightness ratings.
The slim line LCD panel measures a modest 1" thick, and comes with a collapsible stand that when folded all the way down mounts on a 100mm VESA mounting point. This allows the LCD monitor to be attached to a free standing armature, or to the face of a wall with the aid of an included metal mounting plate and screws.
Small stereo speakers are included the in stand, and if you don't want to listen to internet streamed radio over them, a headphone jack and volume wheel will let you use a set of headphones for music. The small speakers don't pack much weight, and at full volume distortion will creep in. The monitor hooks up to the audio output from the computer with the help of an included cable, so if you don't have a sound card you won't be able to use this feature.
Samsung 172W Display:



Screen Size:
17" Diagonal
Resolution:
1280x768 pixel
Pixel Pitch:
0.289mm
Luminosity:
400cd/m2
Contrast Ratio:
400:1
Viewable Angle:
70/70/50/60
Pixel Response:
23ms
Power Draw:
42W
Bezel Colour:
Metallic Silver
Approx. Retail Price:
$670USD (currently only available in the US)
Manufacturer:
www.samsung.ca
Inputs: Analog, DVI, Audio jack, DC power
The control panel on the face of the Samsung 172W is really nice and clean - the Auto adjust key is well positioned and the power button off to the far right alongside an indicator LED. In the center are four buttons for controlling the menu options, brightness/contrast, for display source (analog or digital) and for the proprietory magic bright option.

The buttons are raised above the surface and have a good feel to them. Easily readable lables also help to minimize confusion.
The small integrated speakers are about 10watts in size and do justice to streamed internet radio... and nothing much else. To be fair, they are useful for voice conferencing and other internet activities but not really for loud music - at least nothing more than you would expect from bedside alarm clock.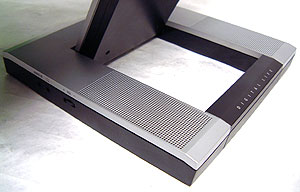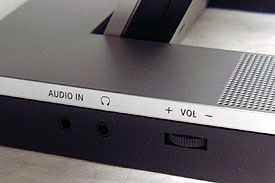 Round back of the display stand we find the integrated monitor ports of which there are just three. The power supply for this monitor comes in the form of an AC-adaptor, so only a small DC jack goes into the stand. I much prefer this orientation because if you decide to mount the LCD, it is a lot easier to route the small DC power cable than a larger power plug with 120V AC running through it. Separating the power cable this way would also help to reduce interference which might have been caused by bundling the video signal cables and mains power cable together in that way.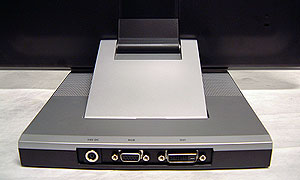 Additionally, this frees up plug sockets on the power bar which might have otherwise been taken up by an AC adaptor with integrated plug socket.
The entire display is well balanced on the stand, which does not feature any type of swivel. Some LCD's have felt a bit precarious when adjusting the height or angle of the display, but the Samsung 172W seems to be pretty steady.