All the side panels, motherboard tray, and PCI expansion slots covers uses thumb screws so if you want to get into your case or changing your peripherals you will not need tools. It's nice to be able to install the mobo/PCI cards on the tray and slide it back in.

This is extremely handy for the weekend tweaker or enthusiast who likes to get dirty and play with their hardware. Removing the tray is quite easy, but reinstalling it can be a bit more challenging because the aluminum to aluminum rails stick a little.

There are a total of 24 motherboard mounting holes so you can install anything from a Flex ATX to a full sized ATX board. The I/O bracket is removable should you be using a non standard motherboard. Because the ATC 201B SXT is a mid tower case, installation of wider motherboards may be a bit difficult, there is 30cm of space from the back panel to the drive bays. T he four hidden 3 1/2" drive bays are actively cooled so you don't have to worry about your HDD's overheating this is worth noting if you're using one of those new 10k RPM Serial ATA HDD's, or 15k RPM SCSI! Cooler Master have put there padding on the feet of the case which helps reduce vibrations and noise. There are some handles on the back edge of the side panels which makes it easier for the end user to remove them.

Unlike steel cases which have folded edges, this aluminum case filed and sand down the edges. There were a few sharp edges that were missed that could easily draw blood so you still have to be a little careful when you're inside. Luckily, this I did not cut myself once while feeling the edges of the case! = )

Like most other high end ATX cases, the Cooler Master ATC-201B SXT does not come with a power supply despite its high price tag. This is a good move on Cooler Master's part since more then likely most consumers would swap out whatever power supply that comes with the ATC-201C SXT for a higher quality one, I would probably go with a PC Power & Cooling 510W.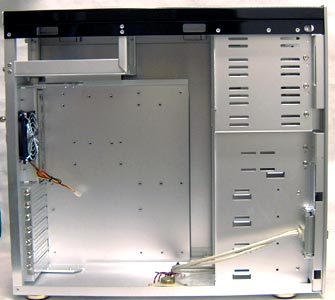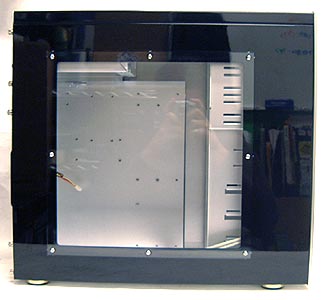 The front panel LED's are held to the case via clips so if you want to change them out for something a bit nicer in colour that is possible. The power and reset switches screw onto a piece of plastic which is permanently attached to the back of the front bezel which is less likely to break. While that may sound like a trivial thing to comment on, some of the generic cases we have here in the PCStats.com office have had their power switches break because of lousy mounting.

Cooler Master include all the necessary screws, spacer and brackets you'll need to install a motherboard, HDD, floppy and a set of optical drives. Most cases these days do not include any instructions, however the installation instructions that come with the ATC-201B SXT are detailed. The image quality of the pictures is poor, but the message gets across.