Cooler Master ATC-201B SXT Aluminum Case Review
---
I still remember buying my first Lian Li PC-70 full tower aluminum case almost three years ago now, before they were cool. All my friends were in awe and thought I was insane for spending $300 CDN just on a case. I'm a trend setter, not follower! ;-)
While it has served me well, with all the new fancy aluminum cases on the market I really want to go with a new look. It has been three years after all and I think a face lift is in order.
One of the PCStats forum moderator's, by the name of "Shiznit" has been going on and on about his Cooler Master aluminum case; so much so, that you'd think it was the next best thing since sliced bread! When Canada Computers fowarded the Cooler Master ATC-201B SXT case for testing, I thought heck why not. Let's see if Cooler Master cases are really as good as everyone says they are...
Today we're going to be looking at the Cooler Master ATC-201B SXT mid tower aluminum case. The first thing I thought when I saw and touched the ATC-201B SXT was that this is a pretty solid case. This is apparent with the black metalic auto paint finish which cover the side panels. The side panels are 3mm thick and the frame is 3mm thick and the entire appearance looked high quality. Of course I would expected that from a case that retails for $255 CDN ($170 US)!
Cooler Master equips the ATC-201B SXT with three sleeve bearing 80mm YS Tech fans (FD1281253S-1N ) that are rated for 1750 RPM and can push 26.2 CFM while producing 18.5 dB of noise each. All the case fans have wire grills protecting them so you're not going to hurt yourself when playing around inside. There's also an air filter in the front of the case which is useful in blocking out the larger dust particles however it's near impossible to remove the filter for cleaning.
Cooler Master ATC-201B SXT
(4) 5.25" Drive Bays
(2) 3.5" Drive Bays
(4) Hidden 3.5" Bays
(3) 80mm fans
Power/Reset switches
(7) slot positions
One thing I like about Cooler Master are that they do not use any flashy gimmicks to attract potential customers (unlike some other companies *cough* TT *cough*). The face of the ATC-201B SXT is very clean and straight forward, it looks professional. There are four 5-1/4" for optical devices, two 3-1/2" drive bays for floppy, Zip drives, etc and an additional four 3-1/2" drive bays for HDD's. The power button is large and and easily identifiable, while the reset button is located at a lower position so you will not get confused between the two. Cooler Master also place two USB ports on the front of the computer hidden away by a aluminum flap. The aluminum edges on the front bezel surrounding the USB ports are a bit sharp and can easily cut someone should they happen to run their fingers across it.

For those of you who want the ability to see inside your computer but do not have the skill to cut your own window, or are like me (lazy), the ATC-201B SXT has a factory installed acrylic window.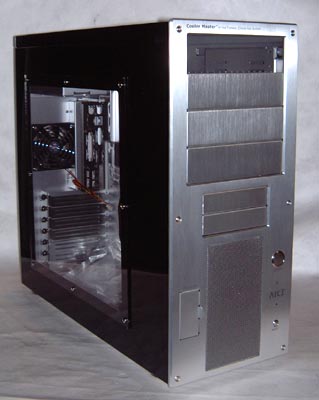 Isn't she pretty?
While I like the window, I would have preferred if Cooler Master install the acrylic on the inside of the side panel instead of the outside. This way the acrylic would be flush with the aluminum. As it is the window juts out about 5mm.