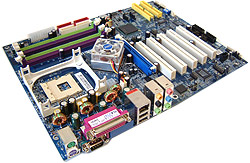 As you have seen from the above benchmarks, the Albatron PX865PE Pro II is definitely a fast performer.

At stock speeds, the motherboard performed on par with the AOpen AX4SPE Max which is very good. The board we tested was able to hit as high as 227 MHz FSB with no problems. If Albatron allowed for higher voltages, or if we tested with a lower clocked processor I'm sure we could have run the FSB much higher. Albatron even claims that their motherboard can hit 1 GHz FSB right on the box!

The PX865PE Pro II was a well equipped motherboard with Serial ATA/ Serial ATA RAID, Ultra/133 IDE RAID, Intel CSA Gigabit Ethernet LAN, IEEE 1394, dual bios's and even a software 7.1 soundcard!

The board has five PCI's should you need to expand, and the standard allotment of four dual channel DIMM slots can accommodate up to 4 GB of PC1600/2100/2700/3200 DDR RAM. Remember though, to run in dual channel memory mode with all four DIMM's filled each memory channel must have the same size DIMM installed.

The layout of the Albatron PX865PE Pro II Is pretty good, the main IDE and ATX power connectors are in a good location as is the ATX12V line. While most of its competitors are cooling the i865PE with passive heatsinks, Albatron goes one step further and uses an active copper HSF on their Northbridge. A big plus for peace of mind here!

Located at the bottom of the motherboard, the floppy drive connector may give users with larger/full tower cases problems if the FDD is located too far away on the front panel. Next and definitely a bigger issue with overclockers (regular users like you and me don't need to worry about this) is the relatively low maximum 1.6V Vcore voltage. With it set so low, the more extreme overclockers out there will have to modify their processors to get them running faster if they really want to. Hopefully Albatron will give the end user higher Vcore options in the future, but so far all i865 boards we have looked at had similar settings.

In the end I think it is safe to say that the Albatron PX865PE Pro II does very well for itself, and should keep most people happy as the basis for a main system.

Find out about this and many other reviews by joining the Weekly PCstats.com Newsletter today!

Related Articles:

Here are a few other articles that you might enjoy as well...

2.