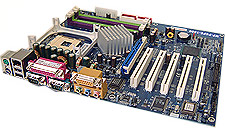 While Magic-Pro is a relatively unknown company here in North America, this board did pretty well in the benchmarking suites; performing on par with i865PE boards from AOpen and Albatron. If the stock performance is not good enough for you, the MP-P6PE-1000 is a pretty good overclocker, and features some nice overclocking options in the BIOS to boot.
The Magic-Pro MP-P6PE-1000 retails for around $170 CDN ($125 US) which places it in the middle of the pack in terms of pricing. The board does not come with much in the way of features, but has a 3Com 10/100 NIC and 5.1 audio included. The motherboard does have Serial ATA as well, but I no longer consider that an "extra" as all motherboards with the ICH5/ICH5R have Serial ATA.
The Magic-Pro MP-P6PE-1000 is very user friendly, the PCB is very well labelled and when you do browse the manual it's easy to use. Newbie's need not fear trying to install this motherboard themselves. The main IDE and ATX power connectors are in their most ideal location to the right of the DIMM slots.
I was surprised that this retail sample Magic-Pro MP-P6PE-1000 did not come with any driver CD..... perhaps it was missed in this one instance. The floppy drive connector is located in a bad position just under the fifth PCI slot, it makes things difficult if you have larger cases. Because of the close proximity of the Northbridge and AGP slot, users with large after market GPU coolers (like the Zalman ZM80A-HP) may have problems installing their videocards with the extra cooling hardware attached.
The MP P6PE-1000 is a good motherboard for mainstream users, and features just enough to satisfy their typical requirements. There are higher performing boards out there, but with an attractive price tag users with budgets should be well satisfied.
Thanks to Canada Computers for providing this Magic-Pro motherboard to PCstats.com for testing.
Find out about this and many other reviews by joining the Weekly PCstats.com Newsletter today!
Related Articles:
Here are a few other articles that you might enjoy as well...