Heatsink Clearances and Overclocking
It's a shame that the four mounting holes are gone because Magic-Pro did an excellent job at clearing the CPU socket of obstructions.
PCStats Heatsink Clearance Measurements
Top Clearance:
14 mm
Bottom (cam) Clearance:
11 mm
Left Side (arm) Clearance:
25 mm
Right Side Clearance
17 mm
Socket Mounting Holes:
N/A
Max. Heatsink Base Dimensions:
~86x76 mm

Note: Approx. measurements are made from the edge of the socket (not the clips) to the closest obstacle taller than the ZIF socket itself.

The socket is 51mm across, and 62mm from top to bottom.
Installation of larger heatsinks like the Thermalright SLK-800 or Vantec AeroFlow is possible. It's a shame the mounting holes are gone.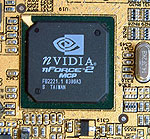 Overclocking the MP-K7N Ultra S:
Because the Magic-Pro K7N-Ultra S is a budget motherboard we didn't really know what to expect from the board. Taking a peek at the Northbridge I noticed that the K7N-Ultra S was using the C1 based nForce2 SPP Northbridge; these chips are supposed to be known for hitting very high FSB's easily.
Dropping the multiplier to 8x, I began to raise the FSB. 200 MHz came and went easily but at 205 MHz FSB we began to run into a few problems.
I had to raise the voltage to my memory to 2.7V as well as the nForce2 Northbridge to 1.7V to stabilize things. Unfortunately the overclocking adventure was cut short at 211 MHz FSB. Raising the voltage to the memory to 2.8V didn't help, nor did raising the VDD voltage.
While this is not the fastest I have ever gone 211 MHz FSB, for a budget motherboard the results are pretty good. On a side note, it seems like the 1.8V VDD option doesn't work since even at stock speeds when the Northbridge is given 1.8V, the board fails to boot.