Magic-Pro K7N-Ultra S nForce2 SPP Motherboard Review
---
The rise of nVIDIA's nForce2 chipset as top dog among AMD chipsets has been nothing short of remarkable. So swift was the momentum of this chipset that only now are VIA and SiS catching up.... to silicon which has been around for over eight months now. That is just about a full life cycle in the computer industry.
If you were to ask anyone which new AMD motherboard to get, you'd no doubt be recommended to get something using one of the nForce2 variants! There's good reason for this blatant nForce2 loving; nForce2 based motherboards are extremely fast and stable. Until the recent blip with the 2.41 and 2.42 unified drivers, nVIDIA hadn't had a any significant compatibility or driver problems.
With the release of VIA's new KT600 chipset the nForce2 finally has some real competition to face up against. The competition will be tough for VIA since their chipset is hardly even battle tested, let alone proven in the minds of AMD's consumers. Knowing VIA though, they'll need to rehash the KT600 before things are done right.... you can almost bet that somewhere on the horizon there is a KT600A.
Now back to the good stuff! Today on PCstats.com we're testing out the Magic-Pro K7N-Ultra S nForce2 SPP based motherboard. While a relatively unknown brand here in North America, Magic-Pro is not a new company. They've been around since 1987 and have mainly been focusing on the asian market where they're known for selling competitively priced components, largely we suspect, from other OEM vendors.
With a retail price of just $155 CDN ($100 US) via Canada Computers, the Magic-Pro K7N-Ultra S is one of the least expensive nForce2 SPP boards on the market that we've come across. Of course, just because it's priced low doesn't mean it doesn't have any features. The board includes 5.1 audio (not nVIDIA's SoundStorm, AC'97 software codec), 10/100 LAN and Serial ATA\Serial ATA RAID.
Magic-Pro also include five PCI slots on their flagship K7N-Ultra S should you need to expand a few months down the road. Of course, there are the usual 8x AGP port and three DIMM slots which support a maximum of 3GB of PC1600/2100/2700/3200 DDR RAM.
Magic-Pro K7N-Ultra S Motherboard



Ships with the following:

IDE ATA66/100 Cable
FDD Cable
2x Serial ATA Cable
Driver CD
User Manual
I/O Back Plate
Serial ATA/RAID Driver
Misc Programs Manual
Programs CD

Brackets: N/A
In case you were wondering, yes, the Magic-Pro K7N-Ultra S and the Soltek 75FRN2-RL look identical and share the same feature set.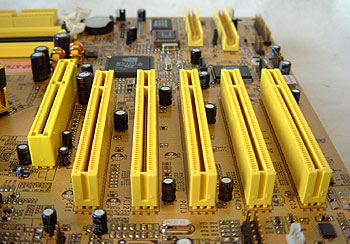 These two boards like and seem identical because under the MP-K7N UltraS sticker we fined the "Soltek" name silk screened onto the PCB.
Meaning that Magic Pro have OEM'd the board from that company and simply relabeled and packaged it with their own bundle of extras. Well, if you're a Soltek fan at least we know what to expect in terms of build quality.
The K7N-Ultra S has a bright yellow PCB with matching AGP/PCI, DIMM slots as well as main ATX and IDE/Floppy drive connectors.
The main IDE connectors are in the prime location to the right of the DIMM slots. Because the nForce2 Northbridge generates quite a bit of heat, we were pleased to see Magic-Pro decided to go with an active cooler, and use a fair amount of silicon thermal paste.
I'm not a fan of placing the power connectors near the rear I/O ports but I do understand that that's the best way to get clean stable power to the motherboard. Magic-Pro also utilizes the ATX12V power connector which is a good idea since the Athlon processor gets its power from the 12V line.
What I don't like...
Like the nForce2 Northbridge, the MCP/MCP-T Southbridge also generates quite a bit of heat. It would have been nice for Magic-Pro to follow the lead of other manufacturers and place a small passive heatsink on the Southbridge. These days only having two USB ports can be a real hassle so we were a bit disappointed to see Magic-Pro did not include any USB port bracket.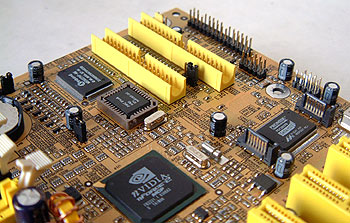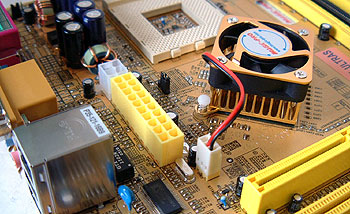 The Magic-Pro K7N-Ultra S was not quite as well labelled as some of the other motherboards we have tested in the past, novice users may have a bit of difficulty installing the board or configuring the jumpers. Also keep in mind that there are no mounting holes around the CPU socket.