While the Magic-Pro K7N-Ultra S is not the highest performing nForce2 motherboard we've ever tested, or the most luxurious, it does offer quite a bit of value considering its low price and features. Retailing for just $155 CDN ($100 US), the Magic-Pro K7N-Ultra S is ideal for those of you who are looking for a vanilla "performance" motherboard.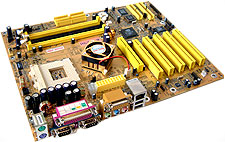 From all the benchmarks you can clearly see that the K7N-Ultra S performs on par with the reference Epox 8RGA+ at stock speeds. That's good considering the Epox 8RGA+ is one of the faster nForce2 mobo's on the market. Those of you who are into overclocking may want to look elsewhere for a motherboard as the K7N-Ultra S was only able to hit 211 MHz FSB with a C1 nForce2 Northbridge.

The yellow PCB is certainly different and those of you with window's in your case will certainly like that. While most other nForce2 motherboards only use passive cooling on the Northbridge, Magic-Pro does one better and not just uses an active cooler. They also use plenty of thermal paste.

The K7N-Ultra S is not quite as user friendly as other motherboards on the market and first time PC builders may have some difficulty installing the motherboard. It was a bit disappointing that Magic-Pro did not bundle any USB headers with the motherboard. These days having only two USB ports can be a real pain considering all the USB peripherals on the market. While it's no longer mandatory, I would have liked to see the four accompanying mounting holes around the CPU socket. Without them the larger more powerful HSF's cannot be used.

The Magic-Pro K7N Ultra S offers the end user a lot of value and it is a decent performer but unfortunately it's unable to separate itself from the pack. If you can find the K7N-Ultra S for a good price then by all means pick it up as you'll be pleased with your find I think.

Thanks to Canada Computers for providing the Magic-Pro K7N-Ultra S motherboard to PCstats.com for review.

Find out about this and many other reviews by joining the Weekly PCstats.com Newsletter today!

Related Articles

Here are a few other articles that you might enjoy as well...

2.