Epox throws in the kitchen sink
There were a few things I didn't like about the Epox 4PCA3+ so things are not all rosy.
The large passive aluminum i875P Northbridge heatsink is located way too close to the back of the 8X AGP slot which will cause problems for high-end third party heatsinks like the Zalman ZM80A-HP, or even for some stock heatsinks on the GeForceFX 5900 series videocard.
With the floppy drive connector located at the bottom of the motherboard, users with taller full tower cases may have problems connecting the floppy. On that note, the clear CMOS jumper is difficult to reach, being so close to the floppy drive connector, one will have to use needle nose pliers if they have problems.
We would have liked if Epox were to equip their motherboard with a CSA compatible NIC as well. With a Gigabit NIC running through the PCI bus, things can become saturated very quickly.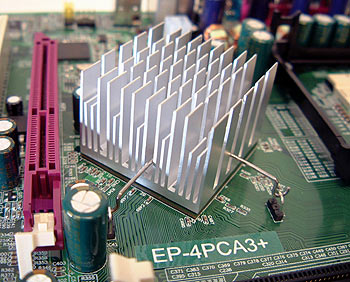 With a price tag of $245 CDN ($175 US) the 4PCA3+ is priced around the middle of the pack despite all the on board features. Of course if you have a lot of IDE drives (like me) then buying the Epxo 4PCA3+ is a lot easier and less expensive then getting a cheaper i875P mobo and two PCI IDE controllers.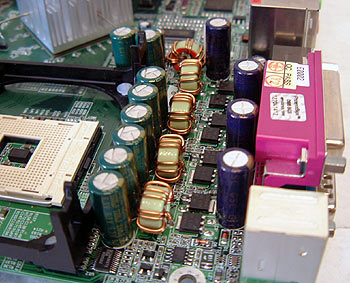 If you're interested in learning a bit more about the benefits of the i875P Canterwood chipset please read our AOpen AX4C Max motherboard review. Up next we take the Epox 4PCA3+ through a quick round of overclocking to see how it performs...
SEARCH PCSTATS

---

Use the power of Google to search all of PCSTATS and the PCSTATS Forums. Tell us what you think of this new feature - FEEDBACK?