Epox 4PCA3+ i875P Motherboard Review
---
When the news came down the wire that the Epox 4PCA3+ i875P motherboard was on the testing block I have to admit I was a little excited. You see, Epox are one of the few manufacturers that can make my [techie] pulse rise. This isn't because of any grand marketing schemes, promotions, or bundles of software and USB break-out boxes in the box. Nope, this impression is one which has been built over many months, and over experiences with many different motherboards from Epox. And if the past is any indication of what to expect in the future, then the 4PCA3+ has a lot to live up to. For not only are Epox motherboards typically fast, they are also typically very good overclockers; and as you may have realized, I'm all for hitting the high numbers!
Now, onto more tangible points that you can actually take away and use as a guide in your path to choosing the right i875P motherboard. For starters, in the last several months I've noticed a broad trend cropping up in the motherboard industry. IDE headers are disappearing and being replaced by multitudes of Serial ATA headers. Typically they SATA component consists of just two headers, but now more often than not we find four SATA headers and just two 'legacy' IDE.
I understand the future is in Serial ATA but I still have quite a few large capacity IDE drives that are far from being tossed out with yesterdays BX chipset. It's easy to see why a quiet grin swept across my face the second I saw not four, but six IDE headers on this motherboard. With the right sized hard drives one could make very nice use of the on board High Point HPT374 controller indeed.
Other features listed under the large Epox 4PCA3+ moniker on the box include Serial ATA/Serial ATA RAID, 5.1 audio and Gigabit Ethernet (not CSA though). If you feel the need to expand, the five PCI slots and purple 8x AGP port are plenty.
Like all other i875P Canterwood based motherboards, the Epox 4PCA3+ also supports 533/800 MHz based Northwood Pentium 4 processors and can support a maximum of 4GB of PC2700/3200 DDR RAM (ECC included).
Epox 4PCA3+ Motherboard



Ships with the following:

2x Rounded IDE Cables
2x Serial ATA Cables
FDD Cable
2x Serial ATA Power
Driver CD
Serial ATA Driver Disk
IDE RAID Driver Disk
I/O Back Plate
Users Manual
RAID Manual

Brackets:
Game Port

Epox built the 4PCA3+ large, and for a good reason. Conforming to normal ATX standards, the width of the board jumps out to 24.5cm and as you can see the PCB is pretty "busy".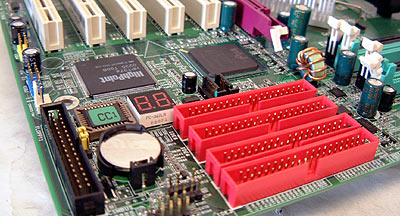 Luckily, the main ATX power and primary IDE connectors are located in a good spot to the right of the DIMM slots.
While I'm not a fan of placing IDE channels on the lower half of the motherboard, at least Epox places them low enough so they will not interfere with longer videocards.
The famous Port 80 diagnostics card shows its face once more, and what a relief it is that Epox have not succumb to the temptation of removing this invaluable tool to save a few dollars.
The Port 80 Card has sertainly saved me a lot of troubleshooting time and I really would like to see it make the standard equipment list from more manufacturers.
These days if a motherboard doesn't have a Port 80 I tend to not want to use it.... I guess I'm just spoiled. =)