We've been very lucky when it comes to overclocking Epox motherboards in the past, and were expecting the tradition to continue as the 4PCA3+ was powered up.
Back in the day of the Epxo 8KHA+ we were able to hit an almost unheard of 170 MHz FSB (back then). With the Epox 8K5A2+ we passed the 231 MHz FSB mark. And with the Epox 8RGA+ we reached 230 MHz FSB. Would the 4PCA3+ continue this tradition? We certainly expected it to.
Using a Pentium 4 3.0C we started to raise the FSB slowly, but didn't get very far. In the end the highest we could go was 216 MHz FSB! Raising the CPU, memory or AGP voltage did not seem to help at all. The Northbridge heatsink was only luke warm so we're at a bit of a loss to explain the relatively low overclock.
Of course overclocking is luck of the draw, and we're bound to get a poor overclocker every now and then.
The 4PCA3+ BIOS: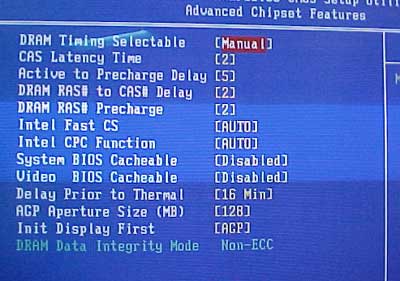 Epox gives the end user complete control over the memory timings, fro CAS Latency to RAS to CAS, and RAS Precharge. You even have the CPC function (which I hear is suppose to be disabled at high FSB's).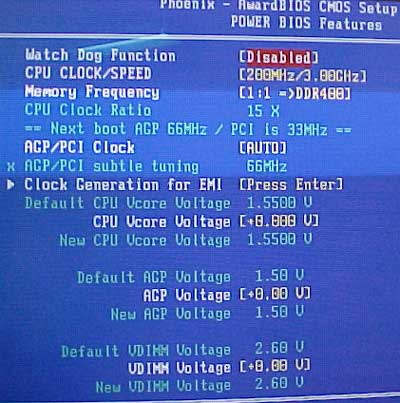 One thing that I have always liked about Epox are that their BIOS's are very straight forward and easy to use. You can go up to a maximum FSB of 350 MHz in 1 MHz increments.
There are the usual 1:1, 5:4 and 3:2 memory dividers (for P4 C processors). AGP voltage goes as high as 2.1V and memory voltage can be raised to 3.3V!
The maximum CPU voltage available is 1.6V which is a bit limiting considering how high the memory and AGP voltage will rise to. There are quiet rumblings that revision 2.0 of the 4PCA3+ will allow for CPU voltages to rise past 1.85V. Up next, the benchmarks!