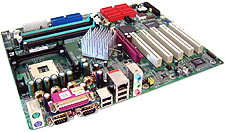 With the glut of i875P based motherboards on the market right now, choosing the "right one" can be very difficult for even the most seasoned consumer. The question always abounds; "should I buy a board based on my current computing needs or should I try and get something that's a bit more future friendly?"
There is no easy answer to that question, but for those of you who have plenty of IDE devices already the Epox 4PCA3+ is one of the few motherboards on the market with six IDE channels. Plus there are two Serial ATA headers waiting in the background should you need them. I know if I were to adopt any other i875P board out there, I'd have to buy at least one and possibly two PCI IDE controllers!
Of course the 4PCA3+ is still relatively future friendly with its two Serial ATA/Serial ATA RAID connectors and if you need to expand that should be very easy with its five PCI slots. Rounding out the on board features are Gigabit LAN (not CSA) and 5.1 audio. With a retail price of $245 CDN ($175 US) the Epox is priced around the middle of the pack, not too expensive, but not 'value oriented' either.
Stock performance of the epox 4PCA3+ was very good; it outperformed both the AOpen AX4C Max and MSI 875 Neo-FIS2R motherboards in almost all the benchmarks, sometimes by more than 5%! Unfortunately our overclocking adventures didn't go very well. The maximum FSB we could run was 216 MHz FSB. For those of you with more powerful cooling solutions, a 1.6V maximum CPU voltage may limit your overclocks as well.
In general the layout of the board was good but there were a few quirks that we didn't like. The Northbridge is very close to the AGP slot, if you're using a larger third party videocard cooler you may have to modify the heatsink to make it fit properly.
If you're looking for a new P4 motherboard for non-overclocking environments and require many IDE channels then the Epox 4PCA3+ is more than ideal.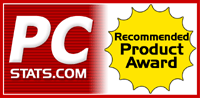 Find out about this and many other reviews by joining the Weekly PCstats.com Newsletter today!

Related Articles

Here are a few other articles that you might enjoy as well...

2.