The new plastic retention frame used with the Athlon64 is made of glass-filled Lexan, and in addition to providing a very firm place for the socket 754 heatsink to grip onto, keeps obstructions out of the way. AMD has built the Athlon64 retention frame into its specs, and there is no getting around that for mainboard manufacturers.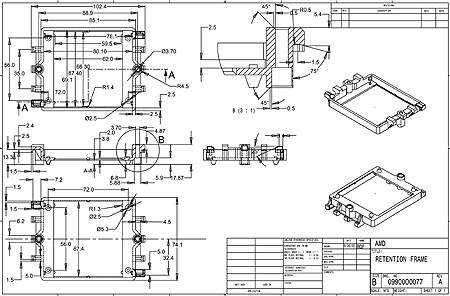 Given that the reference Socket 754 heatsink applies upwards of 75lbs force on the Athlon64 processor (to keep the heatsink in place despite bumps and vibrations as much as for thermal benefit), there is one more piece of the equation which is new to the AMD arena.
Round back of the motherboard you will find a metal plate about the size of a deck of cards. It is called the "backplate sub-assembly" and it is placed directly behind the socket 754 on the other side of the motherboard. The plate prevents the large large forces applied by the heatsink from warping the PCB.
What does this all boil down to if you have a nice AthlonXP heatsink collection already? Well to be blunt, you're out of luck. The Socket A heatsinks are of absolutely no use on an Athlon64 3200+. The new heatspreader which covers the fragile silicon of the processor measures 37mm x 37mm in diameter (larger even then the P4), and the socket 754 retention frame is incompatible with the older spring clips. There is one exception at the moment, and that comes from Zalman in the form of the CNPS700A-Cu which is compatible with socket A, socket m478, and socket 754.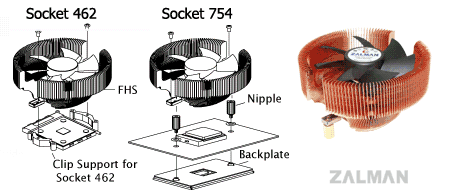 If you don't already have a heatsink like the one by Zalman which has been designed to work on the new socket 754 platform, never fear. An entire armada of inexpensive and performance-oriented Athlon64 heatsinks are already popping up in stores.