To be fair, VIA's K8T800 Northbridge is also designed to support Opterons in a dual processor configuration, so perhaps the extra bandwidth is necessary at that point. Besides the high speed Hypertransport link, the K8T800 boasts some other excellent features. A single channel (for the initial Athlon64) memory bus supporting DDR 400 is built in of course, as is Serial ATA (4 devices) and parallel ATA (4 devices) implemented through VIA's Drivestation controller with RAID support built into the chipset.
Maximum memory for the chipset is set at 4GB, though most companies producing K8T800 boards for the Athlon64 seem to have gone with a 2GB limit.
The VIA K8M800 chipset
The companion chipset to the K8T800, and intended exclusively for the Athlon 64 processor and the lower end desktop market, is the K8N800. It offers identical features to its sibling, with one addition and one subtraction. Integrated graphics will be added, courtesy of VIA's Unichrome2 GPU (though the chipset will still support an AGP8x slot), and support for 400Mhz DDR memory will be removed.
The AMD 8000 Chipset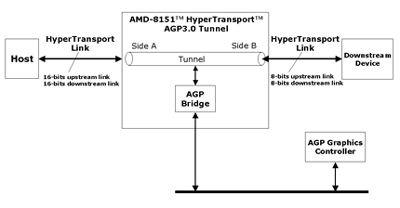 AMD's offering in the 64-bit desktop arena is composed of the AMD-8151 Hypertransport AGP3.0 Graphics Tunnel chip acting as the Northbridge combined with the AMD-8111 Hypertransport I/O Hub in the place of the traditional Southbridge.
Already in use in Opteron servers, the 8000 chipset presents a considerable amount of flexibility for motherboard designers in terms of what they choose to integrate into their designs.
Hypertransport links are used throughout, with the links between the equivalent-equivalent AMD-8151 chip and the processor being 16 bits wide at a speed of 800Mhz DDR (1.6Ghz) for a bandwidth of 3.2 GBps in each direction, totaling out to 6.4GBps.
The links between the AMD-8151 and the equivalent-equivalent AMD-8111 Hypertransport I/O Hub being 8 bits wide at a speed of 400Mhz DDR (800Mhz equiv.) allowing a bandwidth of 800MBps in each direction for a total available bandwidth of 1.6GBps.
As far as features go, AMD is still a looking a little vague in terms of the desktop retail market, as most are left blank, to be included by the actual manufacturer of the board. Many major manufacturers including MSI and Abit are expected to launch AMD-8000 based products (though comparatively fewer than the designs by Nvidia and VIA), so you can expect that they will include the latest features like Serial ATA and Gigabit Ethernet in their products.
The bandwidth available to the 8000 chipset will certainly be more than sufficient to cover whatever they can toss at it. It's worthwhile to remember that this was originally intended as a server chipset.