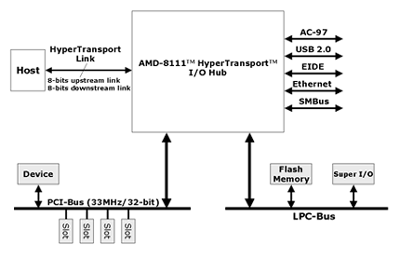 The Nforce3 150 is Nvidia's socket 754 version of their K8 chipset. Like previous Nforce chipsets, it features a Single chip design, where the functions of the Northbridge and Southbridge are integrated into a single chip which is connected to the Processor via a Hypertransport link.
All I/O subsystems connect directly to this chip and the data is marshaled internally onto the Hypertransport link for access to the processor and memory. Nvidia isn't as forthcoming about the exact specs of the Hypertransport link in their chipset as some of the other manufacturers, but they do reveal that it provides a maximum bandwidth of 3.6GBps which is more than adequate to deal with the demands of current graphics and I/O technology, as detailed above.
The benefit of the single chip design is mainly the reduced latency that should be achieved by placing all the IO functions on essentially a single path between the chipset and the CPU. As for features, along with the usual array of USB 2.0, basic audio, PCI, 10/100 Ethernet and parallel ATA, the Nforce3 Pro 150 will integrate RAID into the chipset. Motherboard manufacturers can add serial ATA support and gigabit Ethernet.
Nvidia also plans to release a later version of the chipset, the Pro 250 which will contain native S/ATA support as well as Gigabit Ethernet. Most manufacturers using the chipset are going with a 3GB maximum for DDR 400/333/266 memory.
The SIS 755 Chipset
SIS have gone with an approach somewhat similar to VIA's K8T800 for their initial foray into 64-bit chipsets. The 755 uses a split Hypertransport/conventional bus, with Hypertransport links allowing a maximum bandwidth of 3.2GBps between the chipset and the processor, and a 1GBps bi-directional data bus between the 755 chip and the 963L Southbridge chip.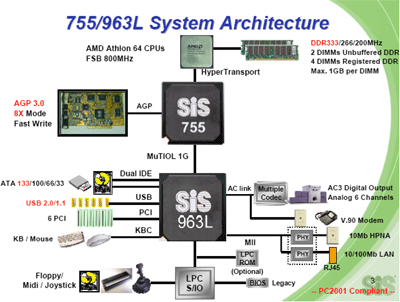 The feature set is conventional, with ATA/133, USB2.0 and 5.1 audio integrated, as well as Ethernet. Motherboard manufacturers have the option of adding serial ATA and Gigabit Ethernet support, which many of them will likely follow through on. The SIS 755 for Athlon 64 supports up to 2GB of DDR 2700/2100 memory initially.