ALI is the only other manufacturer besides AMD to use Hypertransport links throughout the chipset. Their 1687 Chipset northbridge/M1563 Southbridge combo employs a design almost identical to that of the AMD 8000 chipset, with the Northbridge interfacing with the processor at 6.4GBps maximum, and the north and south bridges communicating at 1.6GBps.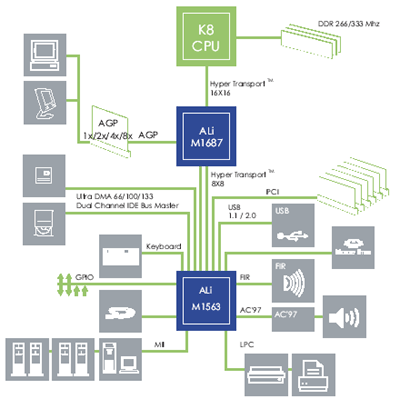 Amongst the typical features such as Parallel ATA and USB2.0, the ALI1687 will also feature support for Sony memory sticks and SD (secure digital) cards built into the chipset. The memory bus will support DDR 2700 and 2100 initially.
It seems likely that VIA and Nvidia will continue their duel for the AMD processor chipset crown. Based on the number of companies who have adopted the K8T800 and the Nforce3 150 chipsets to make motherboards, they should prove to be the most popular standards, certainly in the first few months of the Athlon 64's arrival.
SiS's 755 chipset seems fairly popular with manufacturers, and depending on its performance may catch up to the offerings from VIA and Nvidia a little later in the game. AMD's own chipset, the 8000 is probably going to be handicapped in the desktop market by its server origins, and offerings by ALI have historically been niche products, not widely available, so it remains to be seen how the market will react to their first 64-bit chipset. Incidently, for this review, we are testing the Athlon64 3200+ on a VIA K8T800-based motherboard.