The side panel of the Scorpio is pretty unique as cases go because it swings open once a little handle is released. The handle can be locked to help control access to the insides of the PC as well, but the most obvious feature is the large pre-installed case window with fan.
The plastic window has been professionally installed by the manufacturer, and is held in place with a dozen little black retainers that give it a clean appearance. Right above where the videocard would sit is an 80mm case ventilation fan, that also has some multi-coloured LEDs on board to brighten it up. A chromed fan grill with underlying black metal mesh keep fingers and other objects, large or small, from getting caught in the fan's rotors.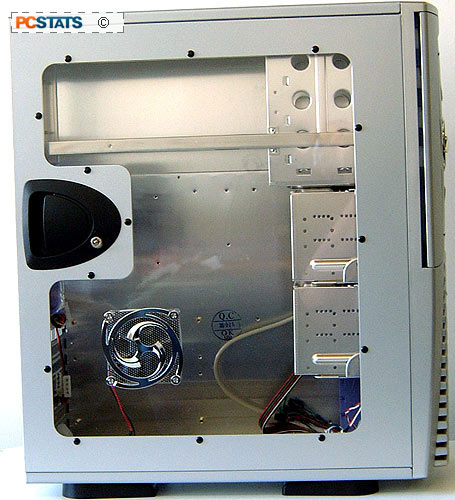 Installation is pretty straightforward with the Scorpio, the hard drive caddies pop in and out with the flick of a catch, no screws required, and the 5.25" bays use rails to hold a CDROM or DVD drive in place. The rails can be removed from the outside of the case without the need for any tools as well.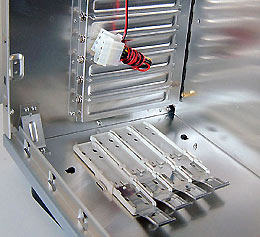 Each of the four 5.25" bays are set up exclusively for use with the plastic bay slides which are stored at the base of the case in a special bracket so they aren't lost.