Raidmax Scorpio Silver Aluminum Case
---
Remember back in the mid-80's, an animated show called Voltron? Well, every time I glance at the brilliantly-blue backlit "Z" on the front of the Raidmax Scorpio case that is the first thing that pops into my head...
So let's just get this next part out of the way quickly; like it or hate it, the chromed "Z" is what defines the Scorpio case the most, and while it reminds me of a dead-end in case design evolution, let's not be too quick to damn the rest of Raidmax's mid-tower case.
The all-aluminum Scorpio Silver has two important design features that should get the gamer in your family salivating; the first is the classic "Z" on the front 5.25" bay cover door, and the second is a pre-installed clear plastic window on the side, complete with an 80mm coloured-LED fan. A fashionable chromed fan grill covers the side intake fan, which also glows nicely in a darkened room.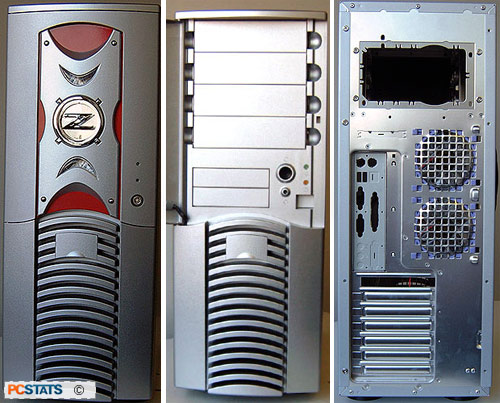 While the Raidmax case doesn't come with any powersupply, retailing for just $80USD makes this fully aluminum case pretty affordable - and hey you don't have to swap out the generic 300W PSU that would have been bundled! The lack of a bundled powersupply may seem like a shortcoming, but since Raidmax are going for the gamer crowd, this allows the user to customize the case with a powersupply suited to their needs.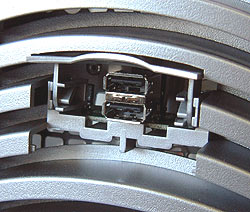 There are plenty of PSUs to choose from, some with LED fans, some with ultra-quiet fans for low noise applications, or some that are renown for their stable voltages and dependable power transformation. The choice may seem daunting, but PCstats has a whole section of powersupplies we've tested, so feel free to have a look.
The Raidmax Scorpio comes in a coat of metallic silver paint, and features a set of USB ports up front behind a secret flap.
The USB ports can be hooked up to any motherboard for either USB1.1 or USB 2.0 support. While there is space for a few other jacks in in this area, the Scorpio is strangely empty - other cases we've seen that followed this design had Firewire or even audio jacks here which would have been equally as useful.
Add to that removable HDD bays, quick change 5.25" bay rails, exhaust and intake fans, you can see why this case design has become one of the most popular ever. If you have a bland white "white box" there's no excuse anymore!