There's good reason why people love the AthlonXP. It offers excellent performance at a very aggressive price point. While you cannot buy an AMD flagship processor for $200 CDN anymore, I think it's safe to say that $130 CDN ($100 US) is definitely a very good deal!
The AthlonXP 2500+ come in last in all the tests because we are comparing this chip (which is intended for the mainstream market) against the flagship processors from both AMD and Intel.
The point worth nothing here is that the AthlonXP 2500+ is the right speed, and right price for consumers or companies that cannot justify buying the significantly more expensive top end processors. For example, we bought this chip specifically for some new PCs in the PCStats Labs because it is easily powerful enough to work with the most demanding office-oriented applications we need to run. Like may consumers, while we would have gone head over heals to use the AthlonXP 3200+ in every machine, there really is no justifiable reason to spend the extra amount that would require.
The AMD AthlonXP 2500+ has a real clock speed of 1.83 GHz and runs on a 333 MHz FSB while only using 1.65V. The particular chip we tested for this review was based AQXEA stepping, and was built sometime in week 34 of 2003. It was not the best overclocker, maxing out at just 2.21 GHz.
We were extremely happy to see that AMD has dramatically improved the HSF's that are bundled with their retail processors. It seems as if they really listen to the end user complaints. Ask anyone who bought a retail boxed Athlon processor in the past and you'll no doubt hear about how they'd need to buy another HSF to replace the stock retail one.
If you're planning to buy that one last AthlonXP processor, or are upgrading an old Socket A system but don't want to spend a lot of money, make sure you take a close look at the AthlonXP 2500+. You'll no doubt like it's excellent price/performance ratio!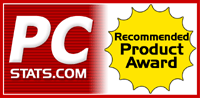 Find out about this and many other reviews by joining the Weekly PCstats.com Newsletter today!

Related Articles

Here are a few other articles that you might enjoy as well...

2.