AMD AthlonXP 2500+ Barton Processor Review
---
The AMD AthlonXP processor has long represented an equal balance of pure economical value and performance. These traits have been enticing consumers towards AMD since the introduction of DDR memory, and that has given the company a strong foothold in the consumer PC markets. While it used to be said Intel was a force to be reckoned with, it now seems as though AMD has become just that, leaving Intel more on the defensive than ever before. While the price of an AMD processor is not as inexpensive as it once was ($200 CDN for a flagship processor anyone?), it still packs in one heck of a punch!
With the release of the recent 'Barton' core AMD have undeniably rejuvenated the AthlonXP processor lineup once again. And since this isn't exactly breaking news, I'm sure you are already aware that the extra cache this core contains has brought about even better performance results...
The AMD AthlonXP 2500+ is easily the gem in the AthlonXP lineup, as it has arguably the most ideal price/performance ratio of any processor on the market right now. For enthusiasts, the AthlonXP 2500+ holds significance not simply because it is the lowest priced processor based on the Barton core, but also because it holds the promise of significant performance boosts when run at over stock speeds.
AMD built the AthlonXP 2500+ based on the 0.13 micron process, and so the core has a total transistor count of 54.3 million. This, up from the 37.6 million transistors found on the highly successful Thoroughbred core. The extra transistors make up the extra 256KB of L2 cache that has been added to Barton, which otherwise is architecturally similar to Thoroughbred.
The default clock speed of the AthlonXp 2500+ processor is 1.83 GHz, and the processor runs on a voltage of 1.65V.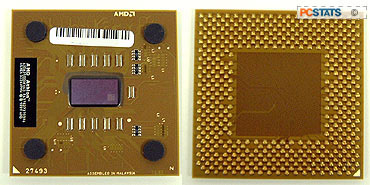 As you can see, AMD use a standard organic FC-PGA package for the AthlonXP 2500+. The layout of the processor is the same as previous Barton based CPU's, however you can now clearly see the processor traces on the packaging. You'd better take a bit more care in handing your processor as breaking one of those lines would render your processor useless.

With a retail price of just $130 CDN ($100 US) the AthlonXP 2500+ is an absolute steal for the performance you get out of it. That's why we bought a couple recently for the PCStats Labs. If you're interested in learning a bit more on the Barton core please read our AthlonXP 3000+ processor review .

Word processing and other 2D applications do not require a lot of raw MHz but they do benefit greatly from the addition L2 cache which makes them the perfect for data crunching. Now, what about overclocking?