Because the GV-NV57U128D supports dual monitors, Gigabyte includes a DVI-to-Analog converter so you can take advantage of dual analog displays should you wish. They also include an S-Video-to-composite cable for the cards TV-Out feature, perfect for those of you who are looking to connect your PC to a TV.
Despite the smaller manufacturing process for the GeForceFX 5700 Ultra core, thing still heat up when the GPU is under the gun of a complex scene, or fast-paced action. The rear heat spreader measured 49 degrees Celsius for example, and according to nVIDIA's internal temperature monitoring software, the NV36 core ran at a cool 35 degrees while idle, 50 degrees Celsius when under full load.
The Albatron GeForceFX 5700 Ultra proved to be good overclocker so we had some high hopes for Gigabyte's little bad boy. With the hefty GPU cooler on the FX 5700 Ultra core we slowly started to raise the core speed from its default 475 MHz. Using nVIDIA's automatic overclocker (which takes the fun away from overclocking) the drivers said the card should do a 584 MHz core speed, but unfortunately when we tried to run at that speed all we were greeted with was a blank screen.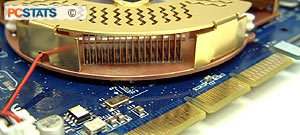 Manually adjusting the core we were only able to hit 535 MHz. Not bad all things considered. The GV-NV57U128D is equipped with eight 128bit 2.2ns Samsung DDR2 (K4N26323AE-GC22) BGA DRAM modules that are clocked at 900 MHz SDR (450 MHz DDR) by default.
Hoping to break the 1 GHz mark, we slowly started to increase the memory frequency. The memory reached the 1 GHz point but couldn't go further without artifacts appearing.
Benchmarks and 3DMark03
We've been a supporter of FutureMark since the days of 3DMark99, but for the time being we have stopped including 3DMark03 in Videocard benchmark suite. It has become clear that recent events have cast so much doubt in the legitimacy of 3DMark03 results that it no longer serves much reference value to our readers. We are aware of FutureMark's Approved Drivers list, but they can be somewhat limiting if newer WHQL drivers are available on the web. If the situation changes we will re-evaluate our position, and reintroduce the benchmark as decided. If you have any questions or concerns, please contact us by e-mail or speak your mind in the PCstats forums.

PCStats Test System Specs:
Processor:

Intel Pentium 4 3.0C

Clock Speed:
15 x 200 MHz = 3.0 GHz
Motherboards:

Gigabyte 8KNXP, i875P

Videocard:

ATi Radeon 9800XT
ATi Radeon 9800 Pro
ATi Radeon 9700 Pro
Asus Radeon 9600XT
Gigabyte Radeon 9600 Pro
MSI FX5900U-VTD256
Albatron GeForceFX 5600 Ultra (Rev2)
MSI G4Ti4600-VT2D8X
Albatron GeForceFX 5700 Ultra

Memory:

2x 256MB Corsair TwinX 3200LL

Hard Drive:
40GB WD Special Ed
CDROM:
NEC 52x CD-ROM
PowerSupply:
Vantec Stealth 470W
Software Setup

WindowsXP Build 2600
Intel INF 5.03
Catalyst 3.9
Detonator 52.16

Workstation Benchmarks

3DMark2001SE
CodeCreatures
AquaMark
AquaMark3
Gun Metal 2
X2 The Threat
UT2003

AA Test, AF and AA+AF Test
3DMark2001SE
X2 The Threat
UT2003
Next up, the benchmarks...