Gigabyte GV-N57U128D FX 5700 Ultra Videocard Review
---
I have to wonder if Gigabyte know something about where the direction the gamers market is headed that the rest of us consumers cannot yet anticipate. For example, while many manufacturers have negotiated ground breaking deals to incorporate ATi-based videocard into their previously nVidia-only product lineups, Gigabyte has done the opposite and brokered a deal with nVIDIA to sell GeforceFX-based cards. All the while Gigabyte are still carrying the full ATI Line that is in such high demand right now.
As a teir one manufacturer, Gigabyte is privy to a lot more information than you or I. Who knows, maybe they see nVIDIA winning back market share in the next two quarters? In any case, nVIDIA appear to be getting back on the right track as this specific case, the GeForceFX 5700 Ultra is very competitive against ATI's Radeon 9600XT.
Today PCstats is evaluating the new Gigabyte GV-N57U128D GeForceFX 5700 Ultra videocard. Sporting 128MB of Samsung DDR2 BGA memory and a TV-Output, the manufacturer has also included a fairly decent software bundle here; with full versions of Will Rock, Raven Shield and even Tomb Raider: TAOD.
Gigabyte GV-N57U128D



Includes:

Users Manual, S-Video-Composite cable, DVI to analog converter, Will Rock, Raven Shield, Tomb Raider TAOD.
The standard length of all 5700-class videocards means you may have to wrangle a few stray cables out of the way when installing it, and don't forget that all important auxiliary molex power connector either. It is also important to watch out for taller capacitors in and around the AGP slot. Motherboards vary so drastically in their layout that sometime electrical components are placed in positions where they may physically interfere with the videocard sitting fully down in the AGP slot. Always make sure your card is flush in the socket before powering up. The molex connector is placed horizontally, which is good because in this orientation it puts less stress on the card when you plug the power in.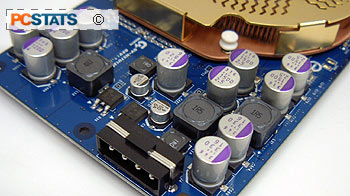 Gigabyte have equipped the GV-N57U128D videocard with a rather large copper heatsink to cool the GeForceFX 5700 Ultra GPU. An aluminum heat spreader on the back cools the memory.
Between the DDR2 BGA DRAM modules and the heatsink is a rather thick thermal pad, but heat transfer seemed to be pretty good as the metal did steadily rise in temperature.
The software bundle that Gigabyte include with the GV-N57U128D is also worth noting; full versions of Will Rock, Rainbow Six: Raven Shield and Tomb Raider: TAOD alone worth well over $100 if you were to buy the titles at your local gaming store. It's also nice to see the games are fairly current and can stress the new videocard that you just bought.