These days computer cases are like cars; they can be modified and supped up like never before, or you just go for a pre-built beauty. Only a few years ago, the only colour a computer came in was beige, now cases come in a range of colours, materials, and shapes.
High end case design and case modding is big business, and unfortunately it is quickly moving out of the realm of the average computer geek where it originally began. You can buy factory premodded cases from almost every major manufacturer for a reasonable price, but of course being factory built they don't garner the same level of attention as case which has been carefully modded by its owner. still, it's nice to break out of the 'white box' world and have something attractive to look at.
When it comes to high end cases there are only a few manufacturers that quickly come to mind; Antec, Kingwin, Lian Li and CoolerMaster. That's right CoolerMaster is right up there with the big boys, and I'm sure that anyone who has played with their cases will agree, CoolerMaster's quality is top notch!
The front of the WaveMaster is very elegant, and high gloss paint job the rest of the case has received certainly makes the case stand out. Most everything in the case is attached with handy thumbscrews, making upgrades, or even just showing off your gear a breeze. The use of steel thread inserts in areas where there is frequent use is a good testament to the level of build quality we found throughout the WaveMaster. Those tiny little thread insert will certainly extend the useful life expectancy of this case.
The inside of the Coolermaster WaveMaster case is very easy to work with, and there are no sharp edges to slice you... Keeping internal temperatures nice and cool is taken care of with the help of two 80mm intake fans in the front, and one 80mm rear exhaust fan.
There's not much to complain about this case, except perhaps that issue with the front door and devices which stick to far out of the CDROM bay. Installing floppy/CD-ROM devices is a bit difficult because there are no drive rails to guide them in flat, but with a bit of screwdriver wrangling that gets sorted out quickly. The sticky motherboard tray guide was also a little bit annoying, but a good swift kick will get that sucker in easily enough. ;-)
With a retail price of $212 CDN ($160 US) the CoolerMaster WaveMaster is very aggressively priced, and damn fine looking. Many aluminum cases around here run in the $250-300 CDN range, so I would definitely gravitate towards Coolermaster's WaveMaster given what they are asking for it. It's a good deal, and I think this case should serve you well for years to come if you decide to get it.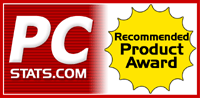 Find out about this and many other reviews by joining the Weekly PCstats.com Newsletter today!
Related Articles
Here are a few other articles that you might enjoy as well...
1. AOpen A600 Aluminum ATX Case Review
2. Coolermaster ATC-201B SXT Aluminum Case Review
3. Aopen QF50A Budget Case Review
4. Raidmax Scorpio Silver Aluminum Case
5. Antec Plus 1080AMG File Server Case